Camp code:
JP-NIC 10.190829
Topic:
10: Environment protection
Free places for Females:
0
Free places last update:
11 Sep 2019
International age:
18 - 99
Extra fee to be paid in the hosting country: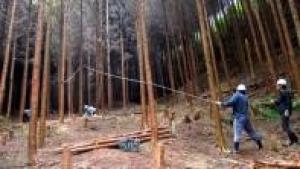 Description: This project has been organized together with local NPOs, aeuroAssociation to protect nature in Tondabayashiaeuro and aeuroHamuro clubaeuro since 2009. 67 of land in Japan is covered with forest and 40 of them is human-made planted forest called SATOYAMA, where people used to get many things to live such as foods and energies. SATOYAMA need to be taken care of to maintain its biodiversity and to keep water adjustment function. Our ancestors had protected and utilized the forest in ecological and sustainable way, which was neglected by modernization. We will try to revive it by global voluntary power Most of the members of local groups are aged 50-70, so they expect our participation of youth and foreign vols. to activate both mentally and physically.
Type of Work: In the morning, volunteers will work in the forest to maintain it. Cutting woods, pealing skins, cutting bamboos, sometimes chopping firewood. In the afternoon, volunteers will have activities such as discussion about environmental issues, bamboo craft, having a lecture about SATOYAMA.
Accommodation: Simple local community house. Meals will be cooked by volunteers by turns. Sleeping bag is necessary.
Language: eng,
Requirements: Interest in nature conservation. Adaptability to enjoy a simple lifestyle is needed
Approximate Location: Tikyani fudo, Tondabayashi city in Osaka. 60 km south of Osaka city