Camp code:
JP-NIC 10.191016
Topic:
10: Environment protection
Work Types:
Agriculture / Manual
Free places for Females:
0
Free places last update:
26 Oct 2019
International age:
18 - 99
Extra fee to be paid in the hosting country: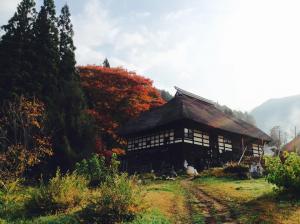 Description: This workcamp has been organized with Kyodo Gakusha since 2000, a cooperative community where about people with various backgrounds such as mentally disadvantaged, people who are tired of city life, who wants to learn farming, just want to live in the nature, etc. They have 5 communities in Tokyo, Nagano and Hokkaido and grow animals and vegetables in ecological, organic way with utilizing bacterium and charcoal. Maki Farm has about 10 members (including 2 families with small children) and is located in a very isolated area (not accessible for cars and we have to walk 4 km in the mountains), so once it became an abandon village in 1970s and revived by the community. The popular documentary film for this place was broadcasted in 2015 at arayashiki-movie.jp/en/
Type of Work: Volunteers will help their organic farm by cutting thatch, threshing rice, selecting beans, taking care of goats and chicken and also carry the things from the town, renovate the trails, help their house works especially cooking, etc. Be ready to work for quite a long time (05:30-18:00 with some brakes) and hard.
Accommodation: Building for the volunteers in the farm. Very beautiful cultural heritage Meals will be cooked by volunteers together with the community people by turns. Sleeping bag is not necessary.
Language: eng,
Requirements: Good Japanese language is not necessary, but still welcomed. Volunteers need to be physically strong and flexible to respect the way of the local host. Motivation letter is needed
Approximate Location: Very isolated, but beautiful place near aeurooeJapanese Northern Alpsaeuro. About 900 meters asl. There is something remained here that most of Japanese areas have lost in modernization.