Active summer for kids "Kutina 2019"
Topic:
7: Children and youth
Work Types:
Art / Teaching / Work with children
Number of places still available:
1
Free places last update:
06 Aug 2019
International age:
18 - 99
Extra fee to be paid in the hosting country:
0.00
Required Language:
English
Motivation letter:
This camp requires an additional motivation letter to explain in more detail why you would like to attend.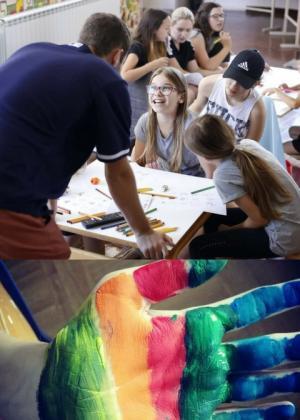 Description: International volunteer camp in Kutina is organized 9th time in a row. Every year more than 200 kids in the age of 5 to 18 years participate in this workcamp. This project is important for the city of Kutina and its youth. We want to organize different workshops with volunteers around the world so that kids from our city can learn about different cultures and learn new languages.
Type of Work: Volunteers will organize creative workshops for kids. They will be working 5 days a week for 4 hours, weekends are free. Volunteers should transfer skills to kids and youngsters through different workshops and activities for local kids and youngsters - dancing, acting, juggling, music, art, theatre, creative skills... They will be helped by local volunteers. Any skill that volunteers have is a good potential for the workshop with kids. You can even teach kids your mother language. Workshops will be held both inside and outside of Kutina's elementary school.
Study Theme: Local organization KOMA will organise tourist siteseeing of Kutina and it's surroundings, presentations of local specialities and cousine, presentation of Udruga KOMA work and achievements, intercultural nights, sports activities on city pool and special events with our partner organisations. On free time volunteers will be offered to do other activities.
Accommodation: Volunteers will be hosted in local apartments "Sobe Kosec" sharing a room with 2-3 people. Rooms are renovated and well equipped. Every room has its own bathroom and wifi signal available. The location of apartements is right across the elementary school where all workshops with kids will be organised.
Requirements: Volunteers need to write motivation letter. After being accepted they will have to provide police confirmation that they have not been criminaly pursued and doctors' confirmation that they are not addicted/using drugs or psychologically unstable. Come to Kutina and find out why we are the best rated camp in Croatia!
Approximate Location: Kutina, Croatia. Kutina is a small town on the southern slopes of the forested hill Moslavačka gora that sits right at the edge of the valley Lonjsko polje. The whole town is rich in greenery and forests with streams in which the happy voices of children echo. In the vicinity of Kutina, and in the town centre itself there are many tourist sights and archaeological sites dating back to the times of the Vucedols and the Romans and medieval culture. Official city web: http://www.kutina.hr/ Wikipedia: https://en.wikipedia.org/wiki/Kutina