United in art and sport 2019
Topic:
7: Children and youth
Work Types:
Art / Work with children / Sport
Number of places still available:
2
Free places last update:
27 Jun 2019
International age:
18 - 99
Required Language:
English
Motivation letter:
This camp requires an additional motivation letter to explain in more detail why you would like to attend.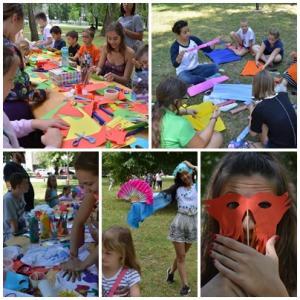 Description: Camp will enable children who spend their summer in town to participate in creative (art and sport) workshops, to learn about new cultures, develop their communication skills and to experience art and sport as a way to express themselves that is common to all cultures, and gathers us in joy of creation.
Type of Work: Volunteers will create and manage art and sport workshops for children (7 to 13 years old). Workshops can be about learning how to dance (especially traditional dances from your country), painting, music, acrobatic skills, various DIY and handcraft workshops… We would love various, interesting workshops that encourage children to be creative and enjoy international atmosphere; the idea is that volunteers also represent their countries through workshops (either by choice of motives, representing their country's folklore, teach songs/dance, etc.). Volunteers will work max 6 hours a day with two free days for trip and party/leisure.
Study Theme: There will be several activities intended for volunteers only; folklore workshop, presentation of local organization Volunteer`s centre "Link", hiking (exploring a nearby mountain, it's flora, fauna and local gastronomy), workshop of making a delicious vegan meal and short course of Croatian language (learning through games/songs, introducing interesting facts about Croatian daily life. NOTE: this workshop is facultative, only for those who are interested).
Accommodation: In tents, camp site is situated in a city centre park complex. Sleeping bags needed. Toilet and shower in a building situated in park complex (2 mins from tents). In case of bad weather volunteers will sleep in a building within the park complex. Food will be prepared by volunteers organised in kitchen teams. They will have daily budget and buy food by themselves, according to needs of every member of the group.
Requirements: Please write us a motivation letter. Keep it simple and add a brief description of your previous experience in volunteering, working with children, artistic or sports experience. Write down whether you have hobbies or previous education in the field of art and sports and how will you contribute to the workshops. Write ideas on what activities you will work on (learning songs, dances, painting..).
Approximate Location: Krizevci on the map: https://www.google.com/maps/d/viewer?mid=z1k_pxAqfJbw.kVAWxIYt6hfs&hl=en_US
About Krizevci: https://en.wikipedia.org/wiki/Kri%C5%BEevci,_Croatia
Notes: We are looking for volunteers who have skills in the field of art and sports (they can play musical instruments, jugglers, singers, sports animators, teachers, psychologists...). Cheerful, dedicated, creative volunteers who are gifted artistically or sporty and want to hang out and have fun with us and enrich the summer to themselves and to all camp participants. We look forward to a relaxing, creative and friendly atmosphere! Please copy/pase the following sentence to your motivational letter (by doing so, you will let us know that you are indeed familiar with the camp requirements): "Križevci is nice little town situated 60 kilometers north-east from Zagreb."
After being accepted to the workcamp, volunteers will have to provide police and doctors' confirmation.