Topic:
12: Art, culture and local history
Work Types:
Cultural heritage / Manual / Restoration, renovation
Number of places still available:
3
Free places last update:
20 Jun 2019
International age:
18 - 99
Extra fee to be paid in the hosting country:
30.00 Euro
Purpose of extra costs:
Extra costs are needed for the cultural program organization and producing t-shirts for each volunteer.
Required Language:
English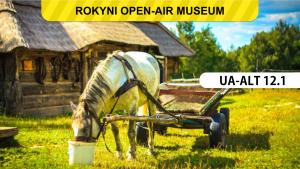 Description: Rokyni Open-Air museum was established around 37 years ago in a beautiful village with lake and picturesque surroundings. Today Rokyni Open-Air museum looks like a street of a small village of Volyn region in the XIX century. The outdoor exhibitions are some common Volyn mansions around which were created homesteading with barn, stables, wells and fences. There are windmill, bath and smithy dates from 1875 year. Volyn Skansen in Rokyni is a cultural-educational centre, that shows to visitors Ukrainian culture, exhibits of national heritage, protects architecture objects of the past times, keep folk Ukrainian traditions, customs and rituals. In 2017- 2018 there were successful international workcamps - this is already 3rd year we are gladly welcome volunteers to Rokyni.
Type of Work: Volunteers will provide help to museum staff doing different activities: to renew (painting, maintenance) outdoor look of Museum (mansions, informational signs, stands), to perform landscaping work, to braid fences of willow and another activities for improvement of Museum territory. As one of the main objectives of the project is to raise awareness of the local community on the issues related to the Ukrainian Heritage, so all volunteers will be invited to take part in planned workshops.
Study Theme: There will be different workshops and trips orginized, such as making hand made dools (motanka), whistles, national dish-varenyky; meeting in a youth center, visit music festival "Bandershtat", excursion to the Lutsk castle. There are special squares for sport activities, so volunteers are welcomed to enjoy playing volleyball and football. You can do swimming and sunbathing near lake.
Accommodation: Accommodation will be organized in a former summer children camp. There will be beds for 3-5 volunteers per one room. Breakfast will be prepared by volunteers. Lunch and dinner will be provided.
Requirements: What to bring: working gloves, working clothes and shoes, hat, reusable bottle for water, musical instruments, detailed information about your country, national games, good mood and motivation.
Approximate Location: Village Rokyni 12 km from Lutsk city
Notes: You can watch a short videos about previous years camps on these links: https://www.youtube.com/watch?v=loUd7v_g3Y0&t=54s https://www.youtube.com/watch?v=kOJ8Ea-vJEs
Organization Description: All-Ukrainian Association for youth Co-operation "Alternative-V" - is a non-political, non-profit non-governmental organisation, founded in 1992. Alternative-V was created to facilitate co-operation between youth organisations, to involve Ukrainian young people into programmes on the national and international level in the fields of education, culture, ecology, historical heredity protection and helping disadvantaged people. Alternative-V wants to contribute to development of more peaceful society, to the decrease of social injustice. The Association obtained all-Ukrainian status in 1999. Alternative-V is a member of: - CCIVS (the Co-ordinating Committee for International Voluntary Service); - The Alliance of European Voluntary Service Organisations. Alternative-V is a partner organisation of: - SCI (Service Civil International)