Following the path of friendship
Topic:
7: Children and youth
Work Types:
Art / Work with children / Sport
Free places for Females:
0
Free places last update:
12 Aug 2019
International age:
18 - 99
Extra fee to be paid in the hosting country:
0.00
Required Language:
English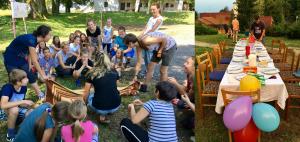 Description: Volunteers will be working directly with the beneficiaries of the institution for education of juveniles and students from local elementary schools who are included in half- day servicepreventive program for children with education problems and social skills deficit. As a part of Croatian social welfare system, we are providing care for children and young people with behaviour and emotional problems,learning difficulties and children from socially disadvantaged families.Our goals include finding and implementing new ways and methods in order to help our beneficiaries in reaching positive afirmation,learning new knowledge and skills which are important and needed for successful functioning in everyday life.
Type of Work: Volunteers are expected to prepare, implement and participate in activities which include working with elementary school students and adolescents (age range 7-18). Activities will be based on group work principles.
Interactive workshops - including interactive games for getting to know each other, learning to work together as a team,learning about other cultures e.g. songs which are typical for specific country volunteers are coming from or making simple traditional dish etc.), activities for improving communication and social skills e.g.making subject-specific posters etc.)
Creative workshops – music workshops,making of decorative items from different materials, art workshops (drawing etc.)
Different sports activities - outdoor games, competitive sports and games etc.
Study Theme: 1.Working with children and young people – presentation will be held by one of the educators
Meeting with young people from local youth association
A trip to local festival/ sights of nature/ historical sights
Accommodation: Volunteers will be accommodated in rooms with two beds that are located in pavilion within the facility. Sleepingbags and mat are not necessary since the linen and blankets will be provided. Pavilion contains 2 toilets and 2 showers and a small kitchen. The volunteers themselves are responsible for cleaning the pavilion and will be provided with cleaning products, mops and brooms. Food for volunteers will be prepared in the facility (breakfast, lunch, dinner). Any additional food volunteers want, they can prepare by themselves in the kitchen, which is located in the pavilion.
Requirements: The volunteers are responsible for planning and implementation of workshops for kids, therefore the motivational letter should state: 1.motivation and experience in working with elementary school students and young people (especially those in social welfare institutions)
a plan for the workshop/activity that a volunteer will organize and materials that are needed for this.
Approximate Location: Bedekovčina is a small town, located in the north west Croatia, with approximately 3,400 inhabitants. It is located around 50 km from Zagreb, approximately 1 hour away by train.
Notes: Organization of international voluntary camps in our institution for five years in a row,was recognized as a modern and unique approach. For that reason and many more, we want to continue collaboration with our partners, local community and volunteers and promote such activities with children and youth. Notice - since the target population of this youth camp are children and young people with behaviour and emotional problems, volunteers are expected to be highly responsible and also being ready to work closely with the educators. Mandatory - police check and medical certificate are required after confirming you are accepted to the camp.