International Buskers Festival (Bern BE)
Topic:
12: Art, culture and local history
Work Types:
Art / Festival / Manual
Number of places still available:
0
Free places last update:
24 Jul 2019
International age:
18 - 99
Required Language:
English
Motivation letter:
This camp requires an additional motivation letter to explain in more detail why you would like to attend.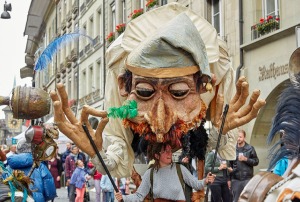 Description: Every year, around 150 artists from all over the world are invited to perform in Berne's old town — an UNESCO World Heritage Site. There's music, dance, street performance, theatre, acrobatics and art on about 25 different spots/venues. Around 70'000 people, young and old, visit the festival every year. The association Buskers Bern involves SCI volunteers since 2018.
Type of Work: Setup of the infrastructure for the festival, mainly moving material from our storage places and office to the festival venue and installing everything. You will have your individual shifts and may change among international volunteers. Be prepared for heavy physical work and late work shifts. Be aware that it will be a busy time – you should be independent and well organised. During festival days, you will be working together with our "regular" volunteers in different areas such as kitchen, selling bracelets to visitors of the festival, overlooking stages, assisting artists, festival office assistance,… also depending on qualification and language skills. After festival: dismantling the venues and festival area and moving everything back to storage places and office (complete tear-off).
Study Theme: A small summary of the idea of the festival, the history and what will be expected (friendliness in all matters, punctuality, reliability, showing initiative, reading all instructions provided fully and carefully…). All jobs can be hard sometimes, mostly they are plain and fun. There are times when we have just nothing to do and other times when we need everybody at the same time. It is important that you can also just sit, relax and help yourself in case the project partner has nothing he can delegate to you in this moment.
Accommodation: Normally you will be staying with other Swiss volunteers, full bed/sofa and bath will be provided. Potentially you will be staying in a hostel with the other SCI-volunteers. In case of emergency there will also be a possibility to wash clothes. WLAN is normally standard in Swiss households, in the festival office we also provide internet access. With regards to food, it will be a mixture of us providing food on site, sometimes it will have to be prepared by yourself (or together with your host).
Language: Required language is English. German would be a great plus. Local languages are mainly Swiss German and some French. Elder people do not necessarily speak English.
Requirements: The weather can be anything between very hot and cold and rainy. You must be prepared for all conditions as most jobs are outside. Orientation skills are essential. You must be reachable by cell phone during the camp. It is absolutely necessary that the project partner can reach you during the festival hours in case of emergencies, last minute changes or for special tasks.
Organization Description: SCI Switzerland is a non-profit organisation which promotes intercultural exchange, sustainable development and non-violent conflict resolution. It has been organizing workcamps and long-term exchanges for volunteers worldwide since 1920. Each year more than 100 volunteers from Switzerland engage in SCI projects abroad, while around 200 international volunteers participate in projects in Switzerland. SCI Switzerland is certified by the Intermundo quality label, which guarantees high quality standards in youth exchange. Swiss workcamps are mainly focused on the work with youth as well as in the area of environmental protection. That is why among SCI Switzerland`s values is also an environmentally friendly lifestyle in accordance with the ideas of sustainable development. Volunteers are encouraged to be eco-friendly, especially when travelling to Switzerland and during the projects. Before applying be aware of high travel costs within Switzerland and check prices on the railway website www.sbb.ch. A participation in the camp from the first until the last day is needed for reason of instruction and group dynamic.