Working for a Place of Exchange (Neuengamme-Hamburg)
Topic:
1: Antiracism, antifascism, remembrance
Work Types:
Restoration, renovation / Study, discussion, research
Number of places still available:
3
Free places last update:
06 Aug 2019
International age:
18 - 26
Extra fee to be paid in the hosting country:
0.00
Required Language:
English
Spoken Language:
English, German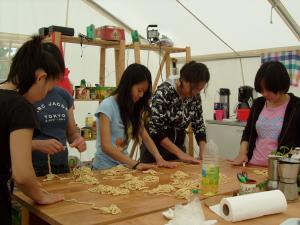 Description: During World War II, the concentration camp Neuengamme was developed to be the central concentration camp for northwestern Germany with more than 80 sub-camps. Almost half of the 100.000 prisoners mostly from all over Europe were murdered by the SS by the so-called "extermination through labor". Today, the memorial is a place of commemoration, information, education, and research. Until 2003/2006, there were two prisons on the area of the former concentration camp, so the bigger part of it could not be accessed by the public. This year, we will use the former brick-factory's administration building. It is a historical building, which after the war was used for offices and was never open to the public. We will document the buildings state and renovate it so it can be open for the public.
Type of Work: Renovation work in the historical building in order to make it useable for visiting groups. Creating an exhibition/information on the building and documenting the workcamps work on it. Processing the results of our study parts, visits, works and talks by creating articles for blogs and local newspapers and the possibility of literary/artistic event; grounds maintenance work on the memorial site.
Study Theme: The history of the concentration camp Neuengamme and the debates and disputes concerning the memorial site. Talking to representatives of the second generation; exchange on various perspectives on the time of the World War II and debates on what and how we remember today.
Accommodation: Participants will be accommodated in rooms. Kitchen and meals will be provided in big tents. The accommodation will be on the area of the memorial.
Requirements: Interest in historical topics and self-initiative (important: knowledge of English and/or German).
Approximate Location: Neuengamme is an outer district of Hamburg and 30km away from the city center.
Notes: There will be excursions to Hamburg for the participants of this camp. Hamburg has 1.8 million residents and the biggest port of Germany. The city offers more than 60 theatres, 100 music clubs and about 60 museums.
Organization Description: This workcamp is organized by the German branch of Service Civil International (SCI). SCI Germany was founded in 1946 and is approved as a non-profit organisation. We are one of the oldest peace and volunteer organisations. SCI Germany aims to promote peace, non-violence, international solidarity, social justice, sustainable development and cross-cultural exchange through international voluntary work. We cooperate with a network of branches and partners in more than 90 countries. Every year, SCI Germany organizes about 50 international workcamps in Germany.