Incredible Sustainable Fair - Can Pipirimosca
Country:
Spain - Catalunya
Topic:
11: Climate and sustainable lifestyle
Work Types:
Environment / Festival / Manual
Number of places still available:
0
Free places last update:
17 Jun 2019
International age:
16 - 99
Required Language:
English
Motivation letter:
This camp requires an additional motivation letter to explain in more detail why you would like to attend.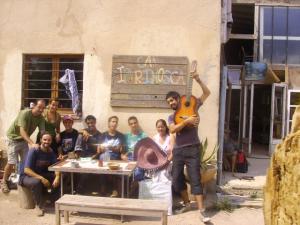 Description: Can Pipirimosca is a permaculture project that is focused on supporting a change towards a more sustainable society by using local resources, reducing waste and living a more simply lifestyle. It started twenty years ago and on the last three years it has promoted an active change in town by starting the transition town movement and a urban garden.
The workcamp will give support to the Incredible Sustainable Fair, which is organized in the urban garden at the same time that Firagost, a big consumerism fair, is happening. Firagost is one of Valls biggest events, and the Fair at the urban garden aims to show and promote sustainable alternatives. After the Fair, volunteers will have the opportunity to visit and support three sustainable farms in the area.
Type of Work: INCREDIBLE SUSTAINABLE FAIR Before: mantling the necesary equipment, preparation of the garden area, drawing of posters, dissemination or previous events, preparation of workshops During: assembling, doing the workshops, supporting the activities, cooking for the fair, monitoring, explaining, help at the end of the day. After: dismantling, cleaning and organizing the space, evaluation of the event
Working hours: 8h-14h with half an hour break
FARM WORK: Gardening, recycling of materials, housework inside the farm house
Study Theme: Permaculture: Projection of documentaries, visit in farms Deep ecology: workshops and group dynamics. Transition towns
Apart from these topics, there will also be Open Spaces where the volunteers can prepare and implement their own workshops or activities.
Accommodation: A: Volunteers will sleep in a room inside the farm house with mattresses on the floor. There are also three double bunk beds. Outside the house there are two compostable toilets and four showers with warm water (solar energy)
F: The food will be vegan. We will use the seasonal fruits and vegetables that are produced locally, some at the farm and others as exchange or rescued. All 100% organic and local. There is an oven where we bake bread and cereal products. We also buy rice and legumes from local producers.
Volunteers will help in preparing the food together with other members of
Language: English, Catalan, Spanish
Requirements: A motivation letter is required
Notes: Be aware that the living conditions are basic
Organization Description: SCI Catalunya is the Catalan branch of SCI, one of the 2 SCI branches in Spain. We are based in Barcelona and our working area covers the Catalan countries (including Catalonia, Valencia, the Balearic Islands and Andorra). The other provinces of Spain are covered by SCI Madrid. SCI was founded in 1982 and he organization works on both a global and local level. On the global level, we organize international workcamps in the above mentioned territory Long Term Voluntary Projects (including EVS), trainings and seminars. . On the local level, we work to promote peaceful social transformation of society in order to encourage sustainable human development and a culture of peace, through volunteer groups, involving our community and local networks.