Camp code:
JP-NIC 10.190806
Topic:
10: Environment protection
Free places for Females:
0
Free places last update:
15 Jun 2019
International age:
16 - 17
Extra fee to be paid in the hosting country:
30000.00 Japanese Yen
Breakdown:
Accommodation and food: 0.00 Japanese Yen
Transportation: 0.00 Japanese Yen
Activities: 0.00 Japanese Yen
Hosting organisation support: 30000 Japanese Yen
Purpose of extra costs:
Covering meal, accommodations, coordination, tools and materials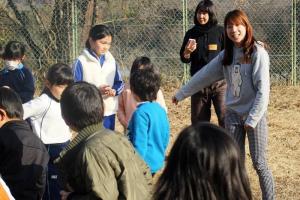 Description: This workcamp is organized together with Tochigi Conservation Corps (TCC). TCC was established in 2009 with inspiration of Conservation Corps in the U.S.A., which is a complex of long term workcamp for environment and leadership training. TCC work on forest preservation for bio-diversity, maintenance of abandoned farmland and cultivation of human resources for next generation. Furthermore, TCC aims to utilize forests as a social place by combining with other fields like welfare, children, education and so on. In 2017, TCC got the first prize in one of the biggest awards for inclusive society.
Type of Work: Volunteers will do manual work such as weeding, cutting undesirable trees/ bamboos which disturb soil conservation function and bio-diversity. Working fields may vary due to local conditions. Each forest is expected to be a place for a place for relaxation for mentally challenged people, a habitat for Sashiba (eagles in danger of extinction) and so on. Also, volunteers will help ourdoor activities with children.
Study Theme: Forest conservation.
Accommodation: Shared rooms, separated by gender. Meals will be cooked by volunteers in turn. All basic facilities are provided.
Language: English
Requirements: Volunteers should be 15-17 years old, highly motivated to work outside. Respect to local people and other participants is needed.
Approximate Location: Mashiko-machi, Haga-gun, Tochigi Prefecture is near Utsunomiya-City, 3 hours from the central of Tokyo by train. Volunteers can enjoy beautiful nature and local culture like Mashiko-yaki (traditioanl ceramics).
Notes: Cultural exchange parties, onsen (public hot spring), traditional ceramics painting, sunflower festival etc. For more info. please refer to reports by long term volunteers as below. Some articles have English subtitles. http://blog.canpan.info/tochigicc/