Welcome home: Casa Samuel III
Topic:
5: Poverty and social injustice
Free places for Females:
0
Free places last update:
18 Jul 2019
International age:
22 - 99
Spoken Language:
English, Spanish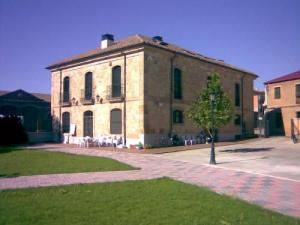 Description: CARITAS - Salamanca has a community house for people affected by HIV that besides offering basic needs coverage, allows the residents to start a process of personal recovery with the main aim of achieving the greatest possible degree of autonomy. Volunteers will be involved in the activities of this community house; they will have the opportunity of being part of a social project, approaching a concrete reality of exclusion, of some of the HIV-positive individuals.
Type of Work: 1. Accompanying the residents: from everyday life in the guesthouse, to city walks to performing various tasks.
Participate and encourage the various leisure time activities that are developed in the House, encouraging everyone and helping those having greater difficulties (being in a wheelchair or walking with difficulty)
Collaborate in the hygiene of the less valid allowing for the development of their activities in their daily life.
Assist in the maintenance and cleaning of the guesthouse.
Study Theme: Reflections on social exclusion, and HIV from an exclusion perspective.
Accommodation: Own room at the Community House. Basic conditions.
Language: A good level of Spanish is essential. An Interview will be required in order to assess the knowledge and comprehension of Spanish.
Requirements: Also make sure that the volunteer has sufficient skills like teamwork, commitment to issues of exclusion and be a dynamic and proactive person. Previous experience in the fields of social work or excluded groups will be an asset.
Approximate Location: Salamanca (Castilla y León autonomy)
Notes: Participation in the Community House is a day shift, which can be from 9.00 to 15.00 or 15.00 to 22.00 Monday to Sunday. Time may also occasionally be 22.00 hours to 8.00 hours. Usually the volunteer participates 5 turns (occasionally 6 turns per week depending on the needs of the home), always trying to give off 2 days a week
Salamanca is a very old and beautiful city, full of history, with lots of places to discover. Surely you will enjoy your stay. Alcohol consumption and smoking in the center is strictly prohibited.