Ferienlager im Berner Oberland (Interlaken BE)
Topic:
9: People with disabilities
Work Types:
Work with people with disabilities / Social
Number of places still available:
4
Free places last update:
17 May 2019
International age:
18 - 99
Required Language:
German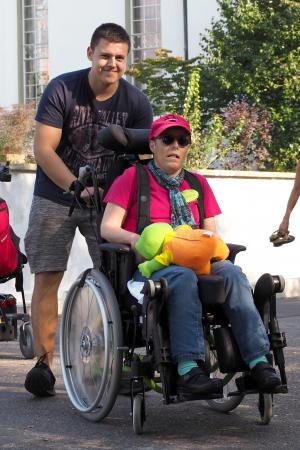 Description: Procap ist der spezielle Ferienveranstalter für Menschen mit Handicap und bietet zahlreiche betreute Gruppenferien an. Als Ferienbegleitung verbringst du keine Ferien im üblichen Sinn - aber unvergessliche, wertvolle Erlebnisse sind garantiert! Im Vordergrund steht die persönliche, verantwortungsvolle Betreuung der Menschen mit Handicap und die Unterstützung und Zusammenarbeit im Team. In Berlingen am Bodensee verbringen 18 Menschen mit unterschiedlichen Behinderungen ihre Ferien. Sie sollen sich sowohl im Hotelgarten erholen können, wie auch Ausflüge und Aktivitäten in der Umgebung geniessen können.
Type of Work: Dir werden bestimmte Feriengäste zugeteilt, welche du in den Ferien unterstützt und für welche du die Verantwortung übernimmst. Deine Aufaben können sein: Rollstuhl schieben, Gehbehinderte stützen, morgens beim Aufstehen und abends beim zu Bett gehen assistieren, Essen zerkleinern und eingeben, Medikamentenabgabe, An- und Ausziehen inkl. Körperpflege (waschen, Zähne putzen, rasieren, Toilettengang); bei Ausflügen, Einkäufen und sportlichen Tätigkeiten begleiten und helfen; Geldeinteilung.
Accommodation: Du wohnst in einem Hotel und geniesst die Unterbringung in einem Doppel- oder Dreibettzimmer. Die vollumfängliche Verpflegung wird angeboten.
Language: Die lokale Sprache ist Schweizerdeutsch. Du brauchst gute Deutschsprachkenntnisse mindestens auf Niveau C1. Der SCI Schweiz wird mit dir ein Skype-Inverview machen, bitte vermerke deine Skype-ID in der Anmeldung.
Requirements: Interesse an Betreuung und Unterstützung von Menschen mit Handicap; Teilverantwortung übernehmen können; Teamfähigkeit; keine Berührungsängste / Mut aufeinander zuzugehen; Mut sich Hilfe zu holen; physische und psychische Belastbarkeit; gute Deutschkenntnisse. Erwünscht sind Este-Hilfe-Kenntnisse.
Notes: Das Ferienbegleitteam besteht hauptsächlich aus einem lokalen Team und wird mit 3-4 internationalen SCI-Freiwilligen ergänzt, total im Begleitteam sind 12-14 Personen, davon mindestens eine Hauptverantwortliche mit pflegerischer Ausbildung.
Organization Description: SCI Switzerland is a non-profit organisation which promotes intercultural exchange, sustainable development and non-violent conflict resolution. It has been organizing workcamps and long-term exchanges for volunteers worldwide since 1920. Each year more than 100 volunteers from Switzerland engage in SCI projects abroad, while around 200 international volunteers participate in projects in Switzerland. SCI Switzerland is certified by the Intermundo quality label, which guarantees high quality standards in youth exchange. Swiss workcamps are mainly focused on the work with youth as well as in the area of environmental protection. That is why among SCI Switzerland`s values is also an environmentally friendly lifestyle in accordance with the ideas of sustainable development. Volunteers are encouraged to be eco-friendly, especially when travelling to Switzerland and during the projects. Before applying be aware of high travel costs within Switzerland and check prices on the railway website www.sbb.ch. A participation in the camp from the first until the last day is needed for reason of instruction and group dynamic.