This project is part of the SCI North South Programmes. Volunteers should be 20 years old, have previous volunteering experience and take part in the Preparation Workshops organised by their sending branch. More details from your sending branch.

Topic:
13: Community life
Work Types:
Cultural heritage / Work with children / Social
Number of places still available:
10
Free places last update:
03 Sep 2019
International age:
20 - 99
Extra fee to be paid in the hosting country:
223.00 Euro
Breakdown:
Accommodation and food: 0.00 Euro
Transportation: 0.00 Euro
Activities: 0.00 Euro
Hosting organisation support: 223 Euro
Required Language:
English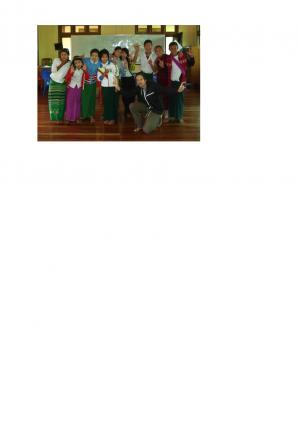 Description: The Phayataung youth development centre monastery and COM hosted this project since 2013. Phayataung youth development centre monastery is a young charity development centre founded in 1982. There are over 1300 students with diverse races Paoh, Lesu, Kayan, Kayah, InnThar, Danu, Shan and Taung Yoe. The students come from different villages and stay the whole year as dormitory in the monastery to attend government high school near monastery. The area is surrounded with mountains and a lake.
Type of Work: The volunteer participate in the activity of monastery and helping to the local community. Volunteer also work in cleaning and cooking for the students together with local volunteers from monastery.
Teaching English, sharing social knowledge, helping in the purified water factory, working in the farm and construction are also including in the work. Playing with the kids from kindergarten is also included.
Study Theme: Volunteer learn about the way of life, understanding life, intercultural learning, become open minded, positive thinking, culture diversity
Accommodation: The host organization will arrange accommodation for volunteers. The sleeping area for girls and boys will be separated. Pillow, bed sheets and mosquitoes net will be provided. Based on your preference, you may bring your own sleeping bag.
The toilets are local toilets mostly and the volunteers should bring or buy tissue at local market for their own. There is open shower available but the volunteers have to wear something to cover up.
Food: The host organization provides three meals a day and all the meal are rice, salad, fried fish sometimes and some local food.
Language: English and Myanmar language
Requirements: Teaching supplies will be based on your teaching plan. You can think on games and sharing global experiences for the students. It depends on you if you would like to teach to students. Please bring some knowledge and information about your country or global sharing for local people if possible.
Notes: The living conditions are very simple in every project site and there is no washing machines. So, volunteers need to wash clothes and dishes by themselves.