Topic:
5: Poverty and social injustice
Number of places still available:
7
Free places last update:
02 Aug 2019
International age:
18 - 99
Required Language:
English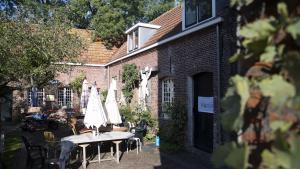 Description: Emmaus is an international solidarity-based movement, acting against poverty and exclusion. Its activities usually consist of recycling and selling things, while at the same time supporting people in need. The profit of the second-hand selling is being allocated to idealistic and/or disadvantages communities. Alongside the eleven companions (mainly former homeless people together with idealists that choose to live and work in Emmaus) who live at Emmaus Langeweg, many volunteers are active at the organization. The community is based in an old monastry. During the project you will have the opportunity to temporary integrate in the life of the community
Type of Work: During the workcamp we will join the companions of Emmaus in Langeweg at their daily work and routine. We will support the recycling process, by sorting out the goods that have been donated and helping at the second-hand shop. The volunteers can do some maintenance work at the buildings. One day there will be the big annual market at Emmaus Langeweg. Volunteers will help with the preparation, with the activities during the market and cleaning up afterwards
Study Theme: Social inclusion and recycling economy. The volunteers will get to know more about the work and the idea(l)s of Emmaus.
Accommodation: volunteers will sleep in one or two large tents. If the weather conditions are not suitable at all, the volunteers can stay inside a large room in one of the buildings. Volunteers have at least access to two toilets and a shower. Matrasses will be provided. Volunteers should bring their sleepingbag. Volunteers prepare the meals and eat together with the residents.
Language: Volunteers should be able to speak English.
Approximate Location: The project will take place in the Emmaus community in the village of Langeweg, in the south of the Netherlands. Langeweg is located 15 kilometers from Breda.
Notes: During the days off volunteers can visit Breda or Rotterdam or spend some time in the nature; our national park De Biesbosch is located close to Langeweg.