Social inclusion and sustainable environment in Casa Chiaravalle (Milan)
Topic:
13: Community life
Work Types:
Construction / Environment / Manual
Number of places still available:
11
Free places last update:
02 Jul 2019
International age:
18 - 99
Extra fee to be paid in the hosting country:
0.00
Required Language:
English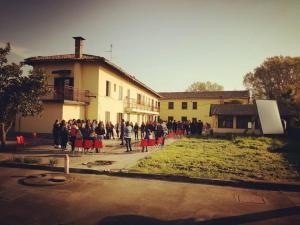 Description: Casa Chiaravalle is the biggest property in the region of Lombardy, that belonged to the Mafia, and it was successfully restituted to the use of the community. Now it is a self-managed social space that can accommodate up to 70 people and has a specific focus on welcoming women, with particular attention to those who have suffered psychological and physical violence during the migratory journey. In addition, there are a garden and a land of 7 hectares, where various agricultural activities and educational trainings for children, guests and local inhabitants take place. The cultivation of the land contributes to the sustainability of Casa Chiaravalle and promotes respect for the environment.
Type of Work: The activities during the workcamp will aim to make Casa Chiarvalle more sustainable for the environment. Therefore, the volunteers will be involved in cleaning and setting up the paths around CasaChiaravalle in order to make it more accessible to reach by bike and by walk. After that, using natural and recycled materials, they will prepare signs and indications to guide the walkers on the itinerary.
Study Theme: The study part will consist of 3 parts:
the first one will be dedicated to the history of Casa Chiaravalle as confiscated by the Mafia. - the second part will discuss the conditions for migrants in Italy after the changes in the law and the current difficulties in policies for their integration and inclusion. -the third part will focus on the environment and sustainable lifestyle and what is the contribution of Casa Chiaravalle.
Accommodation: The volunteers will stay in the building, where female and male participants could be accommodated in separate rooms, if necessary. Meals will be provided and will be eaten together with other guests of the facility and local volunteers. The volunteers will be responsible for cleaning the rooms and the tables after eating. They will have to wash the dishes and clean the bathrooms in shifts, planned together with the managers of the facility.
Requirements: Previous experiences in carpentry will be appreciated, but not mandatory. The work will be mainly manual and the volunteers will be welcomed to give creative ideas for the reuse of materials.
Approximate Location: The camp takes place in a farmstead: Casa Chiaravalle near the village of Chiaravalle, municipality of Milan, within the Parco Sud. Lombardy Region.
Notes: There is no specific diet, therefore the volunteers with a vegetarian diet are requested to communicate it before. The ATM service is available in the city - 5 minutes by bus. WiFi is available in the hotel. The structure is 5 minutes by bus from the metro stop - from there it is very easy to reach the city center (Duomo di Milano is 15 min away).