Oasis of care for disabled children from Sahrawi refugee camps 1 (Lombardia)
Topic:
2: Refugees, immigrants and ethnic minorities
Work Types:
Work with people with disabilities / Work with children / Medical
Number of places still available:
0
Free places last update:
12 Jun 2019
International age:
18 - 99
Required Language:
English
Motivation letter:
This camp requires an additional motivation letter to explain in more detail why you would like to attend.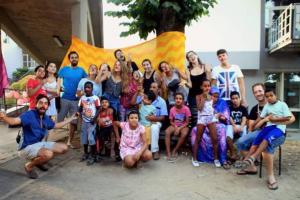 Description: Shanti Sahara was founded to support the people from Western Sahara and face the sanitary crisis affecting the Saharawi refugee camps in Algeria, where each year more and more children are born with disabilities or other types of ilnesses. Within the framework of the project "Young Peace Ambassadors" the organization welcomes a small number of disabled Saharawi children over the summer allowing them to receive medical care they wouldn't otherwise get access to in the refugee camps. Over the next summer, in July and August, Shanti Sahara will host 9 children affected by different types and degrees of disability. The organization will grant medical care to each child, together with improving their awareness of hygienic practices and allowing them to follow a complete and balanced diet.
Type of Work: The volunteers will work 5/6 days a week – morning (8:00-15:00) or afternoon (15:00-22:00). In addition, each volunteer will be on a night shift (22:00-8:00) once or twice a week. They will have 1/2 days off a week (to be defined according to the needs of the organization and upon volunteer's request).The volunteers will be responsible for: looking after the children, accompanying them to the hospital (doctor's visits, hospital stays, blood tests), take part in the lesiure time activites (playing with the children, trips to the swimming pool, to the beach, parties). Volunteers will also be responsible for the childrens' hygiene, preparing meals for them and other volunteers, cleaning the residency (rooms, bathrooms, laundry, kitchen).
Study Theme: Volunteers will receive specific training to understand the pathologies/disabilities of each child; and the necessary hygienic/sanitary standards to be followed. The volunteers will be given a presentation on the Sahrawi issue, the history of Western Sahara and the current life conditions in the refugee camps. Themes such as religion, music, Saharawi traditions will be explored through group activities (the traditional tea making ritual and the preparation of cous cous, the traditional Saharawi dish), screening of the movies and documentaries.
Accommodation: The volunteers will sleep on matresses (placed on the floor) in a mixed room shared with other volunteers. There is shared bathroom and common spaces. In the residency there is no WiFi connection.
Language: Fluency in English (the language spoken by most volunteers). It would be useful to know some Italian (language spoken by all local volunteers and people in the local community, and most of the children) or Spanish (spoken by many local volunteers and children). Another spoken language during the camp is Hassanya.
Requirements: Volunteers are not expected to have any prior knowledge or specific skills. However, it is requested to be respnsible and flexible, with socio-cultural awareness and willing to learn.
Approximate Location: CERNUSCO SUL NAVIGLIO: a city in Northern Italy with 34.000 inhabitants, located not far from Milan. All amenities including shops, supermarkets, restaurants and pubs, parks and swimming pools are within walking distance. Milan can be easily reached by the underground, while cities such as Venice, Verona and Bergamo can be reached by train.
Notes: It's essential to keep in mind that:
Children are between 6-15 year-old and have different needs according to their age;
Some of them have never been apart from their parents and families before. Therefore they might be quite vulnerable from a psychological point of view, and might need special care, attention and support.
Children will be finding themselves in a very different context: used to living in the extremely poor and precarious reality of Saharawi refugee camps and inadequate hygienical conditions, children will need guidance from the volunteers to learn the basic hygienic practices. Their routine is also different from the routine of kids raised in the West (for instance they are used to spending quiet days, praying 5 times a day) and as such must be respected.