Camp code:
JP-NIC 12.191002
Topic:
12: Art, culture and local history
Work Types:
Cultural heritage
Free places for Females:
1
Free places last update:
23 Sep 2019
International age:
18 - 99
Required Language:
English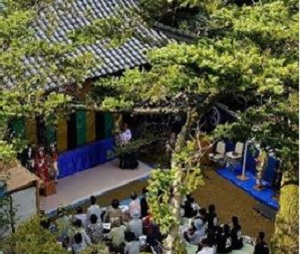 Description: This project is organized for the first time by the local goup. At the end of the Edo period, at a shrine of a small village located at a height of 400 m, a five-grain flea festival was held, and farmers were offering offerings such as songs and dances in addition to offerings. This votive art became a traditional Japanese puppet show, "Joruri" and they built a rural stage in the shrine grounds as a place to practice the puppetry. And locals try to protect this "Joruri" to future generation and needs to volunteer's support to organize "Joruri" stage.
Type of Work: Preparation for holding a traditional Japanese puppet show, "Joruri". Forest road maintenance to water source and mowing. Supporting of farming.
Study Theme: Finding ways for sustainability of a depopulated village, Pass down the "Joruri" culture to the next generation.
Accommodation: Homestay at local old Japanese houses. Meals will be cooked by volunteers. Sleeping bag is necessary.
Language: English (Japanese is also welcomed!)
Requirements: Positive attitude, a willingness to work hard and communicate with local people!
Approximate Location: Higashi miyoshi town, Miyoshi county, Tokushima pref.
Notes: Other activities: Welcome party by locals, the lesson of how to make Japanese pickles. About "Joruri", the pappet show in the local http://jh5ozi.sakura.ne.jp/index/nousonbutai/houiti/houiti.htm About the dried-sweat potato activity of locals. https://ja-jp.facebook.com/pg/hoichinohoshiimo/videos/?ref=page_internal