Friendship Games 2019, Brzece
Topic:
7: Children and youth
Work Types:
Teaching / Work with children / Sport
Number of places still available:
0
Free places last update:
09 Sep 2019
International age:
21 - 25
Required Language:
English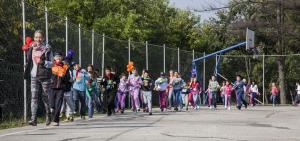 Description: Friendship Games – is an annual 6-day humanitarian camp, which the Novak Djokovic Foundation organizes for children from rural areas. It is a camp with the goal of creating an incentive environment that supports the development of positive life skills, expressing individuality and acquiring new experiences for children aged 7 to 10 years. Through various educational and sports workshops, programs and joint activities, children have the opportunity to gain new knowledge, learn new skills, healthy habits, engage in sport and gain new acquaintances and friendships. This year, around 130 children and their 16 teachers will take part in the Friendship Games. The Novak Djokovic Foundation is a NGO focused on improving the conditions of early childhood education and development.
Type of Work: Accompanied by their teachers, members of NDF team, and our incredible and caring volunteers, the kids will participate in sports, entertaining and educational activities and creative workshops over the period of 16 to 21 September. In addition, they will explore unique natural beauties of Kopaonik and visit local sites. The Friendship Games were founded in 2013 and have since welcomed nearly 650 primary school-aged boys and girls and 119 teachers from 31 towns in Serbia. All camp activities and workshops have been carefully selected and designed in collaboration with child development experts. The Games also promote right values, like fair play, understanding, acceptance of diversity, healthy nutrition, importance of teamwork and environmental awareness.
Study Theme: Upon the arrival of the volunteers at the hotel, the plan is to have a mini-break and meal, and after that a meeting of the entire team. Finally, an interactive lecture is planned for all volunteers in order to get to know each other and exchange experiences. After each meal, a short break for volunteers follows, which can be used in the hotel's lobby or outside. Every day is planned with activities from morning to night but, of course, after evening activities volunteers are free to use their time and facilities within the hotel.
Accommodation: Organization members, volunteers, all the associates, as well as the children and their teachers, will be located at the hotel Junior at Brzece (Kopaonik Mountain). Volunteers will be in 1/3 and 1/4 bedrooms with bathrooms, TV and Wi-Fi connection. Meals – breakfast, lunch and dinner with additional snacks.
Language: Mandatory previous experience in similar camps for children, expressed team spirit/work in the group, knowledge of the English language, and, ideally, basic knowledge of the Serbian language. Serbian language will be predominantly used during all activities and communication with children, but communication with and between volunteers and organization members can be conducted in English.
Requirements: This camp is open to students of social and humane sciences (psychology, pedagogy, andragogy, physical education, social work, special pedagogy...) Skype interview with the applicants is required.
Approximate Location: Brzece is the place under the mountain of Kopaonik, about 260 km south from Belgrade. The Foundation would wait for the volunteers at the airport, and then go to the final destination - Brzece.
Notes: The organiser is willing to support participants with travel costs up to 500 EUR.
Organization Description: Young Researchers of Serbia is a Serbian non-profit, non-governmental organization founded in 1976, whose vision is to be the driving force for all those whose aim is to make our planet a more peaceful, just and healthy place. Driven by science and education, their mission is to contribute: • to environmental protection and nature conservation, • to development of volunteerism and its values, • to scientific creativity and active youth participation www.mis.org.rs