This project is part of the SCI North South Programmes. Volunteers should be 20 years old, have previous volunteering experience and take part in the Preparation Workshops organised by their sending branch. More details from your sending branch.

Camp code:
ID-PKB 12.2008
Topic:
12: Art, culture and local history
Work Types:
Teaching / Work with children / Social
Free places for Females:
6
Free places last update:
03 Dec 2019
International age:
18 - 99
Extra fee to be paid in the hosting country:
2900000.00 Indonesian Rupiah
Breakdown:
Accommodation and food: 0.00 Indonesian Rupiah
Transportation: 0.00 Indonesian Rupiah
Activities: 0.00 Indonesian Rupiah
Hosting organisation support: 2900000 Indonesian Rupiah
Purpose of extra costs:
The cost will cover the accomodation, Food, Material of the project, IIWC-Tshirt and Certificate of participation.
Required Language:
English
Motivation letter:
This camp requires an additional motivation letter to explain in more detail why you would like to attend.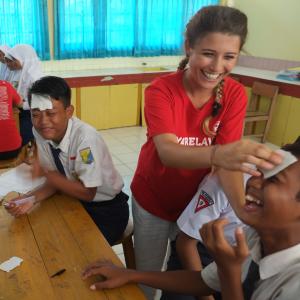 Description: Ramadhan Camp – Ramadhan is a part of moslem life in Indonesia, it is such a special month for moslem around the world and so is for Indonesian moslem. Ramadhan Camp will emphasize an introduction of Muslim culture in Indonesia especially about Ramadhan and its meaning for Indonesian moslem. This workcamp offers a cultural experience and study about Ramadhan life in Indonesia including the Ramadhan working hours, sleeping and wake up management, way of working, schedules, food and drinks, cookies, etc. This workcamp is located in orphanage; it is a Muslim orphanage that accommodates not only children without parents but also needy children whose parents could not afford for their formal education.
Type of Work: Volunteer will assist teach the orphans about cleanliness and create fun atmosphere for them while they are practicing to fasting. Volunteer will do some daily activity with local community such as cooking, cleaning, and learning how local community doing their worship during Ramadan.
Study Theme: (1) To introduce Moslem culture in Indonesia. (2) To organize activities in orphanage. (3) To promote global understanding and friendship trough intercultural learning.
Accommodation: Volunteers will stay in the house together with the students. The bed room will be separated by the gender (Part of moslem culture). Food will be organized by the team (self cooking by dividing the group).
Language: English
Requirements: We do expecting that volunteers are open minded, tolerant, respect the local custom and culture, love to learn and share.
Approximate Location: Fatimatuzzahro orphanage which located in Semarang city Central Java Indonesia.
Notes: Be ready for very early breakfast for Ramadhan at 3 am, sleepy daytime, praying songs during most evenings. Be ready for the basic accommodation, since the volunteers will stay in the orphanage. Your clothes should cover your knees, shoulder, and veils.
Organization Description: IIWC (Indonesian International Work Camp) is one of PKBI (Eng: Indonesia Planned Parenthood Association) program who deal with IVS movement since 1999.