This project is part of the SCI North South Programmes. Volunteers should be 20 years old, have previous volunteering experience and take part in the Preparation Workshops organised by their sending branch. More details from your sending branch.

Topic:
12: Art, culture and local history
Work Types:
Art / Festival / Cultural heritage
Free places for Females:
5
Free places last update:
18 Dec 2019
International age:
20 - 99
Extra fee to be paid in the hosting country:
100.00 Euro
Breakdown:
Accommodation and food: 0.00 Euro
Transportation: 0.00 Euro
Activities: 0.00 Euro
Hosting organisation support: 100 Euro
Purpose of extra costs:
For food and accommodation
Required Language:
English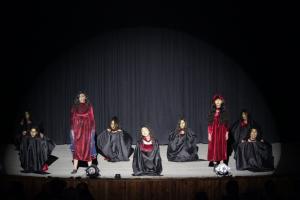 Description: Volontariat sans Frontières is an organization founded in 2013 with 3 main goals: youth volunteer involvement, oasis protection, local savoir-faire and traditions preservation thanks to women employment.
Theater Festival: It has existed since 2013. It is a festival in honor of Ali Lessouad, a theater teacher who brought the theater to Chenini. He did a lot for the city but died recently. This is why the festival bears its name. Each year, there is a theme (that of this year is not yet revealed). The festival attracts a lot of spectators. Many pieces are in competition. They are mainly companies of adults, there is also a room for children. The exact program has not yet been established.
Type of Work: Giving flyers and doing communication activities before the festival - Theater and diverse art workshop participation during the festival - Speaker / activity leader during the festival
Study Theme: It is a place with diverse productions, from agriculture (dates, pomegranate...) and handicraft (basketwork...) which help local population to make a living. It is also a place to live, with wonderful landscapes!
Accommodation: The accommodation will be at AGIM apartment building.
Language: French is the local language with volunteers but english can also be spoken
Approximate Location: Chenini Gabès, Tunisia Chenini oasis is a unique place where the sea, the mountains, the desert and the oasis meet all together.