This project is part of the SCI North South Programmes. Volunteers should be 20 years old, have previous volunteering experience and take part in the Preparation Workshops organised by their sending branch. More details from your sending branch.

Topic:
12: Art, culture and local history
Work Types:
Festival / Cultural heritage / Manual
Free places for Females:
5
Free places last update:
18 Dec 2019
International age:
20 - 99
Extra fee to be paid in the hosting country:
100.00 Euro
Breakdown:
Accommodation and food: 0.00 Euro
Transportation: 0.00 Euro
Activities: 0.00 Euro
Hosting organisation support: 100 Euro
Purpose of extra costs:
For food and accommodation
Required Language:
English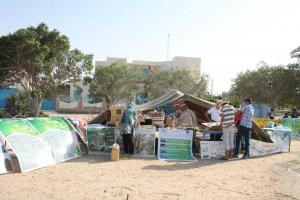 Description: Volontariat sans Frontières is an organization founded in 2013 with 3 main goals: youth volunteer involvement, oasis protection, local savoir-faire and traditions preservation thanks to women employment.
Henna Festival: The first festival took place in 1981. This festival is made to preserve all the traditions linked to henna, a traditional plant of the oasis which is unfortunately replaced today by vegetable crops which are more profitable. Among the activities of the festival, there are presentations of henna and traditions related to this plant to the young generations, entertainment for children, parades with traditional clothes, activities in the streets, some sports activities such as a tournament of pétanque and a football tournament.
Type of Work: Volunteers will be asked for communication before and during the festival (flyer and speaker throughout the day), but also for logistical help (installing tables, chairs, storage aid, accompanying people who have difficulty moving when it's dark because the festival grounds are irregular ...)
Study Theme: It is a place with diverse productions, from agriculture (dates, pomegranate...) and handicraft (basketwork...) which help local population to make a living. It is also a place to live, with wonderful landscapes!
Accommodation: The accommodation will be at AGIM apartment building in shared rooms.
Language: French is the local language with volunteers but english can also be spoken