This project is part of the SCI North South Programmes. Volunteers should be 20 years old, have previous volunteering experience and take part in the Preparation Workshops organised by their sending branch. More details from your sending branch.

Topic:
13: Community life
Work Types:
Medical / Social
Free places for Females:
5
Free places last update:
23 Dec 2019
International age:
18 - 99
Extra fee to be paid in the hosting country:
200.00 Euro
Breakdown:
Accommodation and food: 0.00 Euro
Transportation: 0.00 Euro
Activities: 0.00 Euro
Hosting organisation support: 200 Euro
Purpose of extra costs:
The participation fee is a contribution requested by Astovot from volunteers participating in international projects. Astovot as any association in Togo does not benefit from any subsidy from the Togolese State. It is the participation fees of the volunteers that enable Astovot to finance its projects. The cost of participation in volunteer workcamps amounts to 200€ per person for 2 to 3 weeks. This participation will cover : accommodation costs; food; accompaniment of the group; administrative costs; purchase of materials and equipment for the project.
Required Language:
French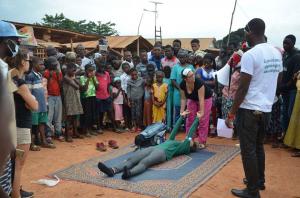 Description: In Togo, many people are still unaware of the basic gestures for rescuing victims of a road accident or an incident affecting the physical body. In view of the increase in road accidents in recent years in the town of Kpalimé, ASTOVOT has been implementing a training and awareness project on "life-saving gestures" for the past three years. The project consists in raising awareness and training in particular motorcycle taxi drivers commonly called "Zémidjan" and in general all road users on life-saving gestures so that they can have basic knowledge in the field of first aid in case of traffic accidents or other incidents (trauma, cardiac arrest, bleeding ).
Type of Work: Specific objectives
Strengthen solidarity between citizens through the learning of first aid techniques ;
To train the volunteers on first aid gestures so that they in turn become trainers on the project;
To sensitize and train motorcycle taxi drivers and the population in life-saving gestures through practical demonstrations at the different parking points in the city ; Work Each edition, the project is supported by a team from the National Federation of Civil Protection of Togo . This training will focus on learning the first aid gestures. The trained volunteers will in turn train motorcycle taxi drivers and other road users on different first aid modules. They will set up a detailed programme to provide first aid in different places in the municipality.
Study Theme: This project will not only enable the beneficiaries to have reactions adapted to first aid but also the necessary provisions to prevent, limit or remove an imminent danger in the event of an incident and also how to alert the emergency services.
Accommodation: Housing conditions are generally basic (especially in rural areas). The group is housed together in a house in which the volunteers have to share the rooms (usually 2 to 4 rooms). We have small mattresses and plastic mats that will be used as bedding for the volunteers. Because housing is often not equipped with beds. However, volunteers can provide small air mattresses or small floor mats, sleeping bags, mosquito nets ...etc. Volunteers prepare their own meals (breakfast, lunch and dinner) on site. The dishes are varied and diverse with local and imported ingredients provided.
Language: French and English are the two languages of the project. However, French is the official language spoken in Togo. It is advisable for English-speaking volunteers wishing to participate in this project to have a minimum level in French, because a large majority of local volunteers and communities have a low level in English.
Requirements: ASTOVOT volunteering workcamps are open to everyone, regardless of the nationality of the volunteers. The min age required is 18 years. No special skills are required, just motivation for the activities presented and good morals.The workcamps can be of several types (more or less physical, more or less "intellectual"), it is therefore recommended that volunteers target the one that best suits them
Approximate Location: Situated 120 km north of Lomé, the commune of Kpalimé is the ideal place for nature lovers and hikers who wish to discover beautiful mountainous landscapes and tropical flora. Numerous natural waterfalls will allow you to refresh yourself at the water's edge. Kpalimé is also home to the most important craft center of the country where a very large number of artists and craftsmen have settled.With about 101 088 inhabitants, Kpalimé is a tourist town in the Plateaux region.
Notes: The diet of each volunteer is respected and taken into account in the preparation of the meals. During the international days decreed on the workcamp, each group of volunteers (Europeans or Togolese) can present a typical dish from their country or continent. As part of the international workcamp, several activities are organized: discovery walks, hikes, festive outings, cultural meetings. These activities allow volunteers to get in touch with local populations but also to discover Togolese culture. During the weekends, group excursions are organized to discover the tourist sites of the region where the construction site is located. It should be noted that the participation (transport, visiting fees and other costs) of these activities are covered by the volunteers themselves.