Borobudur Village Camp II
This project is part of the SCI North South Programmes. Volunteers should be 20 years old, have previous volunteering experience and take part in the Preparation Workshops organised by their sending branch. More details from your sending branch.

Camp code:
ID-PKB 12.2009
Topic:
12: Art, culture and local history
Work Types:
Cultural heritage / Work with children
Free places for Females:
6
Free places last update:
30 Dec 2019
International age:
18 - 99
Extra fee to be paid in the hosting country:
2900000.00 Indonesian Rupiah
Breakdown:
Accommodation and food: 0.00 Indonesian Rupiah
Transportation: 0.00 Indonesian Rupiah
Activities: 0.00 Indonesian Rupiah
Hosting organisation support: 2900000 Indonesian Rupiah
Purpose of extra costs:
The cost will cover the accomodation, Food, Material of the project, IIWC-Tshirt and Certificate of participation.
Required Language:
English
Motivation letter:
This camp requires an additional motivation letter to explain in more detail why you would like to attend.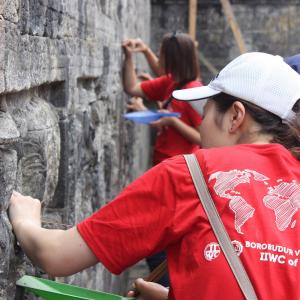 Description: The Borobudur Temple Compounds is the greatest Buddhist temple in the world. Nominated as one of World Heritage List, The Borobudur Compounds has the most complete Buddhist relief. In a year, there are approximately 2.9 million people came to see and learn Borobudur Temple Compound history and philosophy. Even so, people living nearby the sites were sees Borobudur only as a tourist attraction. Local community, who supposed to be the first guard line on sustainability preservation activity, mostly works as vendor in Borobudur Temple Compound. Starting in 2016, collaborated with local community and stakeholder, we want to raise awareness of local people to be more involved in preserving their own cultural site.
Type of Work: This project is part of World Heritage Volunteer since 2008. The work will be created fun atmosphere for kids in village to study about Borobudur Temple Compound and the history of it by storytelling, games, drawing, etc. Create creative media to promote local heritage, raising awareness local people about their heritage by campaign, either a cross-culture understanding class. Help local people to protect the environment such as managing garbage to waste bank.
Study Theme: (1) To enlarge Borobudur Temple Compound heritage project issue on local community, (2) To improve local community participation to preserve Borobudur Temple Compound as their own culture, (3) Provide opportunities, life experience, that shared among participants and local residents with the rhythm of local life
Accommodation: Volunteer house will be provided by local community with shared toilet and bathroom, sleeping bag and mattress needed, and self-cooking.
Language: English
Requirements: We do expecting that volunteers are open minded, tolerant, respect the local custom and culture, love to learn and share.
Approximate Location: Karanganyar Village Borobudur, Magelang Regency. Central Java, Indonesia
Notes: The location will take place in the village nearby Borobudur temple. It's very beautiful village with natural landscape surrounded and the people itself. Nearby the camp site, you can find several places to visit during your leisure time such as hills, historic places, buildings and cafe.
Organization Description: IIWC (Indonesian International Work Camp) is one of PKBI (Eng: Indonesia Planned Parenthood Association) program who deal with IVS movement since 1999.