This project is part of the SCI North South Programmes. Volunteers should be 20 years old, have previous volunteering experience and take part in the Preparation Workshops organised by their sending branch. More details from your sending branch.

Topic:
7: Children and youth
Work Types:
Work with children / Peace / Study, discussion, research
Free places for Females:
6
Free places last update:
30 Dec 2019
International age:
18 - 99
Extra fee to be paid in the hosting country:
2900000.00 Indonesian Rupiah
Breakdown:
Accommodation and food: 0.00 Indonesian Rupiah
Transportation: 0.00 Indonesian Rupiah
Activities: 0.00 Indonesian Rupiah
Hosting organisation support: 2900000 Indonesian Rupiah
Purpose of extra costs:
The cost will cover the accomodation, Food, Material of the project, IIWC-Tshirt and Certificate of participation.
Required Language:
English
Child friendly camp
Yes (Minimum age: 0)
Motivation letter:
This camp requires an additional motivation letter to explain in more detail why you would like to attend.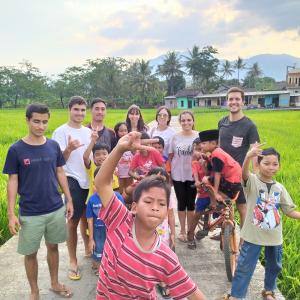 Description: Tegalrejo Red-District area is a prostitution area in Semarang Regency. There are more than 100 families who mostly work as sex workers or food sellers. We run this project since 2006 together with our mother organization PKBI. This work camp focus on improving quality life of marginalized kids so they will threaten fairly and less discriminated. Most of the children living in this area don't have birth certificate, since their parent don't have identity card either. On the other hand, they couldn't afford higher level of school, and must faces high-risk-sexual activity scene (such as violence, sex bargaining, or sexual exploitation) as their playing ground. By this situation we worked with local stakeholder to provide Non-formal education for children.
Type of Work: Create fun atmosphere for kids to studying self-hygiene, good attitude by storytelling, games, drawing, etc. School campaign to minimize kids-discrimination, or other local issue. Volunteer also will help kids to learn English, and world culture.
Study Theme: 1. To organize activities for kids in Tegalrejo Red-District area.
To exchange culture between participants and local people.
To empower local people to be more aware on education for kids.
Accommodation: Volunteers will stay in house family with shared toilet and bathroom. Host family will served 3 times Indonesian food. Volunteers can also cook in the house. The project site (where the work will be conducted) and camp site (volunteer house) are separated
Language: English
Requirements: We do expecting that volunteers are open minded, tolerant, respect the local custom and culture, love to learn and share.
Approximate Location: Tegalrejo sub-village, Jatijajar village, Semarang, Central Java Indonesia
Notes: Since the project site and camp site are separated, it takes 15 minute walk to go to project site. During the walk, you will find several beautiful landscape. During leisure time, you can visit some cafe or garden near by the campsite. It's very relaxing :)
Organization Description: IIWC (Indonesian International Work Camp) is one of PKBI (Eng: Indonesia Planned Parenthood Association) program who deal with IVS movement since 1999.