This project is part of the SCI North South Programmes. Volunteers should be 20 years old, have previous volunteering experience and take part in the Preparation Workshops organised by their sending branch. More details from your sending branch.

Camp code:
ID-PKB 12.2017
Topic:
12: Art, culture and local history
Work Types:
Art / Cultural heritage
Free places for Females:
6
Free places last update:
30 Dec 2019
International age:
18 - 99
Extra fee to be paid in the hosting country:
2900000.00 Indonesian Rupiah
Breakdown:
Accommodation and food: 0.00 Indonesian Rupiah
Transportation: 0.00 Indonesian Rupiah
Activities: 0.00 Indonesian Rupiah
Hosting organisation support: 2900000 Indonesian Rupiah
Purpose of extra costs:
The cost will cover the accomodation, Food, Material of the project, IIWC-Tshirt and Certificate of participation.
Required Language:
English
Child friendly camp
Yes (Minimum age: 0)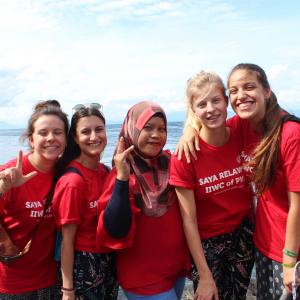 Description: The activities that will be carried out are learning about culture and providing education for young people to participate in preserving culture in Rembang. This program was implemented to introduce the culture carried out during Kartini's struggle. Kartini was one of the female heroes during the Dutch colonial era in Indonesia. She managed to create education for women in her time, because at that time a woman was not allowed to continue her education if she was 12 years old. Since that age, Kartini was married by his parents. Equipped with embroidery, batik, and sewing equipment. She started her determination to open an education school for women. Therefore, the existence of this program is to enhance the enthusiasm of learning for women and to preserve the culture.
Type of Work: Volunteers will work together with the youth center called KIBAR and assist their activities such as seminar, discussion, and culture exchange. Main work is daily running teaching activities in campsite (language classes,handicraft, arts, etc). Give motivation for young and local residents together for preserving culture. Promote campsite and office of Youth Center to be recognized by local youth (youth club, high schools, or university) in order to get local volunteer that could help for daily teaching in shelter and activity with local people.
Accommodation: The volunteers will stay in IIWC Volunteer house at Rembang Regency with shared toilet and bathroom, sleeping bag and mattress needed, self cooking.
Language: English
Requirements: We do expecting that volunteers are open minded, tolerant, respect the local custom and culture, love to learn and share.
Approximate Location: Rembang Regency, Central Java Indonesia.
Notes: During leisure time, volunteers can visit several monument nearby the camp site or just have a chill time in cafe.
Organization Description: IIWC (Indonesian International Work Camp) is one of PKBI (Eng: Indonesia Planned Parenthood Association) program who deal with IVS movement since 1999.