Discover vegan-ecological lifestyle and permaculture (Sornetan BE)
Topic:
10: Environment protection
Work Types:
Agriculture / Manual / Study, discussion, research
Number of places still available:
2
Free places last update:
29 Jun 2020
International age:
16 - 99
Required Language:
English
Child friendly camp
Yes (Minimum age: 0)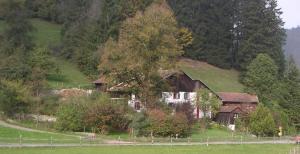 Description: The local project partner's long-term aim is to establish a vegan-organic permaculture mountain farm in order to educate people on how to have a highly sustainable lifestyle in a mountain region. The partner is a family of home-schoolers: They feel that this is the best way to respect children's rights and to establish human connections (better friendships/relationships lead to less aggressiveness and consumerism). Their house outside the village is over 150 years old as well as the linden tree next to it, which is the perfect place to relax.
Type of Work: There are plenty of different tasks: You will destroy redundant concrete-stone-walls in nature, make hay for cultivating next year's potatoes following a specific procedure, you will plant fruit trees and bushes, harvest berries and preserve them. You might also help weeding the field and transport firewood to the barn. Work time outside will be rather early and late with a long lunch break depending on the weather – when it is least hot and when Werner is around (he will be away for work during some days), this means: free time during the day and you might work on the weekend and less during weekdays. The local partner will cook seasonal, vegan-organic, fair trade meals or will give instructions or recipes to cook on your own. The eating plan requires time for preparation.
Study Theme: We will talk about vegan-organic agriculture (what is it, what impact does it have on the earth and on peace, how to do vegan-organic agriculture and 1-3 short films). And you can ask us at any time about homeschooling (if desired we can watch also 1-2 films about it). Further there are a variety of books in German and quite a number of them in English, Dutch and French about veganism, vegan-organic agriculture, cookbooks, homeschooling and breastfeeding. There are also books in Dutch about literature, linguistics, cookbooks, veganism, vegan-peaceful-green anarchism, and children's books.
Accommodation: There are two rooms for volunteers - only one with a door (also possible: sleeping outside on the mulch/under the linden tree). Things to take with you are a sleeping bag and comfortable camping mattress. As the toilets and shower are about to be renovated, there will probably be a compost toilet and a shower (with warm water) in the house or outside. There is limited access to washing clothes: The local partner only uses ecological soap since the house is not connected to a wastewater treatment plant. There is 1 computer only with internet access for all.
Language: Required language is English. Local language is French (and unofficially, some also speak Swiss German). Within the family, they speak (Swiss) German and some of us English, Dutch, French and Italian.
Requirements: We wish this to be a project without alcohol and without smoking (as this industry is not vegan and it affects the environment and health of others badly). Please, do not bring non-vegan food with you either (animal products like meat, milk, cheese, eggs, honey etc.). We also ask you not to bring any animals with you as the local project partner has a half-wild young cat that might be scared.
Notes: This project can accept a maximum of 1 -2 children (2 children in case they speak languages). In your free time, you can have siesta under the linden tree, read books or go for walks in the beautiful nature. A lot of board games for children and adults are also available. NB: Please kindly note that due to the COVID-19 situation we will not be able to accept applications from the following categories of people: people over the age of 65; adults with the following underlying medical conditions (cancer, cardiovascular disease, chronic respiratory diseases, conditions and therapies that weaken the immune system, diabetes, high blood pressure).
Organization Description: SCI Switzerland is a non-profit organisation which promotes intercultural exchange, sustainable development and non-violent conflict resolution. It has been organizing workcamps and long-term exchanges for volunteers worldwide since 1920. Each year more than 100 volunteers from Switzerland engage in SCI projects abroad, while around 200 international volunteers participate in projects in Switzerland. SCI Switzerland is certified by the Intermundo quality label, which guarantees high quality standards in youth exchange. Swiss workcamps are mainly focused on the work with youth as well as in the area of environmental protection. That is why among SCI Switzerland`s values is also an environmentally friendly lifestyle in accordance with the ideas of sustainable development. Volunteers are encouraged to be eco-friendly, especially when travelling to Switzerland and during the projects. Before applying be aware of high travel costs within Switzerland and check prices on the railway website www.sbb.ch. A participation in the camp from the first until the last day is needed for reason of instruction and group dynamic.