Local non-profit music festival 'Hors Tribu' (Môtiers NE)
Topic:
12: Art, culture and local history
Work Types:
Art / Festival / Manual
Number of places still available:
8
Free places last update:
18 Nov 2020
International age:
18 - 99
Required Language:
English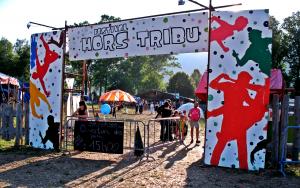 Description: The main purpose of the association is to organize a yearly music festival since 25 years. The committee works nearly a full year for the logistics of the event. Organizers need quite a lot of time for this tiny festival because they want to do every part of it by themselves, from the cooking to the structures. It is an alternative way to stay free from sponsors and economic rules that are usually in place in summer at big festivals. In the end the festival looks like a nice "handmade" event. The base of this association is to enjoy a wide spectrum of music styles, food, and create a place where people can meet in a very friendly atmosphere. They are really involved to create a unique human sized event. They work on a voluntary basis, except of course for the artists and main technicians.
Type of Work: You will have the opportunity to work on all jobs: structures, kitchen, decoration, etc. You will work with the festival committee and some of our local volunteers. The work is a mainly outdoor carrying job, except for the kitchen. Be aware that the amount of work varies over the days. The first day you will set up the circus tent, and then install toilets, tents, lights, and the decoration of the site. Each job is supervised by a skilled volunteer from the organization. Your creativity is appreciated. During the festival, organizers will give you free time, so you can appreciate the result of your work, even though any help during the festival is appreciated. The Monday after the festival you will clean the material, and take it back to the storage until Friday evening.
Study Theme: As we are a very small organization working without sponsors, we often talk about "small is beautiful" and "de-growth". Ecology – not green washing – is also a main idea. We often compare the difference between political and social life in different countries. These discussions take place often during meals or transports, at any time given.
Accommodation: You will sleep in dormitories that are specially installed in the gym of the local school. They are fitted with mattresses, shower (unfortunately mainly with cold water!) and toilets. Be aware that it might get chilly sometimes overnight. It's about a 10-minute walk from the festival site. You will help the festival kitchen team in cooking. There is no wifi on the field, but usually we share our internet connection from our phones. You can also access internet via public wi-fi (in restaurants) or in local volunteers' houses.
Language: English is the workcamp language, the local language is French and a little bit of German. English is important for the communication among the international volunteers and local language skills in the interaction with locals.
Notes: The project partner will bring you to visit our natural sites (river, mountain) in the area. Others activities are scheduled during the workcamp (city tours, other festivals, cheese or absinthe factories...). We go the Buskers festival one night during the 2nd week.
Organization Description: SCI Switzerland is a non-profit organisation which promotes intercultural exchange, sustainable development and non-violent conflict resolution. It has been organizing workcamps and long-term exchanges for volunteers worldwide since 1920. Each year more than 100 volunteers from Switzerland engage in SCI projects abroad, while around 200 international volunteers participate in projects in Switzerland. SCI Switzerland is certified by the Intermundo quality label, which guarantees high quality standards in youth exchange. Swiss workcamps are mainly focused on the work with youth as well as in the area of environmental protection. That is why among SCI Switzerland`s values is also an environmentally friendly lifestyle in accordance with the ideas of sustainable development. Volunteers are encouraged to be eco-friendly, especially when travelling to Switzerland and during the projects. Before applying be aware of high travel costs within Switzerland and check prices on the railway website www.sbb.ch. A participation in the camp from the first until the last day is needed for reason of instruction and group dynamic.