Assistance of German speaking people with disabilities (Berlingen TG)
Topic:
9: People with disabilities
Work Types:
Work with people with disabilities / Social
Free places for Females:
4
Free places last update:
13 Mar 2020
International age:
22 - 99
Required Language:
German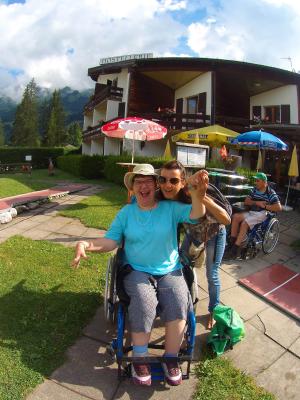 Description: Procap is the special holiday service provider for people with disabilities and offers numerous assisted group holidays. As a holiday companion you don't spend a holiday in the usual sense - but unforgettable, valuable experiences are guaranteed! The focus is on personal, conscientious care for people with disabilities and the support and cooperation within the team. In Berlingen on Lake Constance, 18 people with various disabilities will spend their holidays. They should be able to relax in the hotel garden as well as enjoy excursions and activities in the surrounding area.
Type of Work: You will be assigned certain holiday guests whom you will assist during the holidays and for whom you will take responsibility. Your tasks can be: pushing the wheelchair, providing support for people with walking disabilities, assisting in getting up in the morning and going to bed in the evening, cutting up and feeding the guests, administering medication, dressing and undressing including personal hygiene (washing, brushing teeth, shaving, going to the toilet); accompanying and helping with excursions, shopping and sporting activities; money management.
Accommodation: You will stay in a hotel and enjoy accommodation in a double or triple room. Full board is provided.
Language: The local language is Swiss German. You need a good knowledge of German at least at proficiency level C1. SCI Switzerland will do a Skype interview with you, please note your Skype ID on the registration form.
Requirements: Interest in care and support of people with disabilities; ability to take on partial responsibility; ability to work in a team; no fear of contact / courage to approach one another; courage to get help; physical and psychological resilience; good German language skills. Knowledge of first aid is desirable. - Fill in the additional form (https://bit.ly/36oArPx) and enclose it to your application!
Notes: The holiday assistance team consists mainly of a local team and is supplemented by 3-4 international SCI volunteers. The total number of people in the assistance team is 12-14, at least one of whom shoulders the main responsibility and has professional care training.
Organization Description: SCI Switzerland is a non-profit-organisation which stands for intercultural exchange, sustainable development and non-violent conflict resolution. It is certified with the Intermundo-SQS-label, which guarantees high quality standards in youth exchange. SCI Switzerland has been organizing workcamps and long-term exchanges for volunteers worldwide since 1920. Each year, more than 100 volunteers from Switzerland engage in SCI projects abroad, while around 200 international volunteers work in projects in Switzerland. Swiss workcamps have a main focus on the work and exchange with children and youth living in asylum-seeking centres as well as environmental protection. In that line SCI Switzerland promotes a more environmental-friendly lifestyle in accordance with the goals of sustainable development. Therefore volunteers are expected to be aware of their environmental impact and encouraged to choose more eco-friendly means of transport. Please also check transportation costs within Switzerland before applying for our camps as this is expensive. Enter the place (to be found in the camp title) in the railway website www.sbb.ch. A participation in the camp from the first until the last day is needed for reason of instruction and group dynamic.