Promoting biodiversity in Neckertal (Bütschwil-Ganterschwil SG)
Topic:
10: Environment protection
Work Types:
Environment / Manual
Number of places still available:
10
Free places last update:
25 Mar 2020
International age:
16 - 99
Required Language:
English
Child friendly camp
Yes (Minimum age: 12)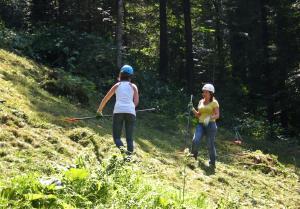 Description: The "Landschaftskonzept Neckertal" is a project involving three communities to enhance the biodiversity of the landscape by improving the quality of habitats for animals and plants. Since 2006 they have been operatively working together with volunteers, state civil servants and asylum seekers in favor of the project goal. This year they will welcome a group of SCI volunteers for the 7th time.
Type of Work: To go on with the project, there are various tasks to be done, like cleaning parts of the forest after wood-cutting, opening up meadows in and around the forest to ensure biodiversity. More specifically, you will do activities like e.g. cutting small trees, making piles of the branches, raking cut grass.
Study Theme: One person involved in the project "Landschaftskonzept Neckertal" will present it to you. A person trained in biology and nature education will inform you about the endangered plant and animal species your work helps to protect.
Accommodation: Volunteers will be hosted by a SCI member who lives together with his family in a big old renovated house in a nearby village. You will sleep either in the attic of the house which is not heated but well protected from wind and rain or in a beautifully renovated site caravan, please be sure to bring a warm sleeping bag. Please keep the kitchen tidy so the host family feels comfortable. The campsite is located near the mountains, so even in the summertime the nights can be cool. It is possible to use the laundry and there is one room with WiFi.
Language: The workcamp language is English. The project partner speaks German but it is not required. The local language is Swiss-German.
Requirements: You absolutely must bring good mountain shoes. Gym shoes won't do! The working area is very steep and might be slippery. Bring also work clothes, a raincoat and clothes for both warm and cold weather. Last but not least, please, be aware that the work can be physically demanding.
Approximate Location: The working areas are situated within the communities of Hemberg, Neckertal and Oberhelfenschwil in Eastern Switzerland. The region has deep valleys and steep hills and is quiet and green. You will get to the working place every day with a minibus.
Notes: The group will cook by itself, so don't forget good cooking recipes. There is a small shop in the village where you get some basic food and you can use some of the vegetables which are growing in the garden.
Organization Description: SCI Switzerland is a non-profit-organisation which stands for intercultural exchange, sustainable development and non-violent conflict resolution. It is certified with the Intermundo-SQS-label, which guarantees high quality standards in youth exchange. SCI Switzerland has been organizing workcamps and long-term exchanges for volunteers worldwide since 1920. Each year, more than 100 volunteers from Switzerland engage in SCI projects abroad, while around 200 international volunteers work in projects in Switzerland. Swiss workcamps have a main focus on the work and exchange with children and youth living in asylum-seeking centres as well as environmental protection. In that line SCI Switzerland promotes a more environmental-friendly lifestyle in accordance with the goals of sustainable development. Therefore volunteers are expected to be aware of their environmental impact and encouraged to choose more eco-friendly means of transport. Please also check transportation costs within Switzerland before applying for our camps as this is expensive. Enter the place (to be found in the camp title) in the railway website www.sbb.ch. A participation in the camp from the first until the last day is needed for reason of instruction and group dynamic.