Immersion In the Asylum Seeker Center of Natoye
Country:
Belgium - French speaking
Topic:
2: Refugees, immigrants and ethnic minorities
Work Types:
Work with children / Social
Number of places still available:
10
Free places last update:
19 Feb 2020
International age:
20 - 99
Required Language:
English
Motivation letter:
This camp requires an additional motivation letter to explain in more detail why you would like to attend.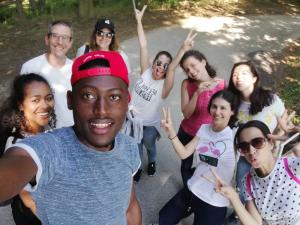 Description: The Red-Cross center of Natoye « Le Relais du Monde » is an open center for asylum-seekers of various origins. The residents of the center benefit from social and material assistance and medical care during the waiting period of their application for asylum (in order to be recognized as a refugee or not). The center has the capacity to host up to 284 people and has reached it's maximum hosting capacity. The majority of the residents is composed of families (70 adults,50 children) but also isolated men and women (numbers are fluctuating). Residents are mainly from Afghanistan, Palestine, DRC or Guinea. 41 nationalities in total. The aim of the workcamp is to encourage intercultural meeting between volunteers and the residents of the center and to propose leisure activitiesto the residents.
Type of Work: The volunteers will organize and lead different activities for the residents adults, teenagers and children but: sport, handicraft and art workshops, cooking, visits, etc. At the beginning of the project, the group will set up a planning of activities and everyone will be able to propose activities in which he/she feels at ease. It's is really interesting for the residents to propose activities they are not used to. The presence of the volunteers allows relieving the parents a little.
Study Theme: Discovery of the asylum application procedures in Belgium. The first day of the camp there will be training about intercultural living.
Accommodation: As the center being is at its maximum hosting capacity, the accommodation of the volunteers will have to be organized outside of the center in a place to be determined (in the premises of the neighboring association, in a tent or in a building in the village of Natoye). Take a mattress and a sleeping bag with you.
Language: Basics in French are welcomed.
Requirements: A MOTIVATION LETTER IN FRENCH is requested. To enjoy working in teams. Volunteers with an experience with kids and/or creative volunteers are particularly welcome. Volunteers are encouraged to be flexible and able to adapt to the changing conditions of life in the center.
Approximate Location: The center "Le Relais du Monde" is located, 300 meters from the Natoye train station, in a 10 ha domain. Natoye is a village located near Namur.
Notes: Only for volunteers from 20 years old. Not accessible to wheelchairs.
For your information, the budget granted to the Centers for Asylum Seekers was drastically reduced in 2014. Volunteers are then encouraged to realize activities at a lower cost and those who want can bring material with them.
The budget for the food is also very restricted for the resident, this aspect can be an issue for some volunteers (not very various and delicious). Please take some food with you if you think it can be a problem. For more Information on the center: http://www.croix-rouge.be/activites/asile-et-migration/les-centres-de28099accueil/le-relais-du-monde-natoye