Impulse Centre Holdenweid (Hölstein BL)
Topic:
12: Art, culture and local history
Work Types:
Construction / Manual / Restoration, renovation
Number of places still available:
9
Free places last update:
01 Jul 2020
International age:
18 - 99
Required Language:
English
Spoken Language:
English, French, German, Spanish
Child friendly camp
Yes (Minimum age: 14)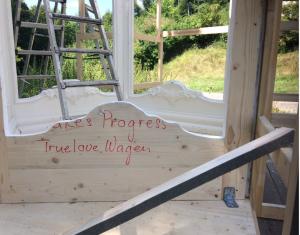 Description: The Holdenweid is an interdisciplinary impulse centre for a wide range of activities in the fields of culture, life design/social affairs, environmental development and research and regards itself as a source of inspiration for innovative approaches, new formats and offers. It should be a place of retreat and a place of inspiration for individuals, groups and companies - as a place of culture, education, experience and research for the most diverse needs and demands, set in a very special ambience in the midst of the countryside.
Type of Work: We will renovate wardrobes, paint, wire non-hazardous electrical work, lay sanitary lines, masonry, furnish, glazing, demolition, construction, curtain sewing, do gardening work and other handicraft work. In short, we will do current renovation work.
Study Theme: On the day of arrival we will briefly present our project and then visit the buildings. During the tour we will talk about the rooms and explain their future purpose. In the course of time, especially during common activities (rebuilding, eating), we will talk a lot about our goals. Of course we hope to have a lively exchange with the volunteers, which will lead to the enrichment of all participants. This process will be supported by a wide group of project operators: teachers, therapists, actors, engineers and craftsmen.
Accommodation: - Mattresses, blankets and bed sheets are available.
Toilets and three shared showers are available.
You will have access to a washing machine.
WLAN is available at individual hotspots
About half of the time you will buy food and cook with the other volunteers on your own and the other half of the time you will have meals together with the project partner. We do not eat meat every day, but local meat from good husbandry.
Language: Local language is Swiss-German
Notes: Leisure activities: hiking, climbing, cycling (some bicycles are available), swimming / Loud and continuous music is not desired / The local project partner will organize a public event during the workcamp
Organization Description: SCI Switzerland is a non-profit organisation which promotes intercultural exchange, sustainable development and non-violent conflict resolution. It has been organizing workcamps and long-term exchanges for volunteers worldwide since 1920. Each year more than 100 volunteers from Switzerland engage in SCI projects abroad, while around 200 international volunteers participate in projects in Switzerland. SCI Switzerland is certified by the Intermundo quality label, which guarantees high quality standards in youth exchange. Swiss workcamps are mainly focused on the work with youth as well as in the area of environmental protection. That is why among SCI Switzerland`s values is also an environmentally friendly lifestyle in accordance with the ideas of sustainable development. Volunteers are encouraged to be eco-friendly, especially when travelling to Switzerland and during the projects. Before applying be aware of high travel costs within Switzerland and check prices on the railway website www.sbb.ch. A participation in the camp from the first until the last day is needed for reason of instruction and group dynamic.