Discovering a vegetable garden in Brussels
Country:
Belgium - French speaking
Topic:
11: Climate and sustainable lifestyle
Work Types:
Agriculture / Environment / Manual
Number of places still available:
4
Free places last update:
19 Feb 2020
International age:
18 - 99
Required Language:
English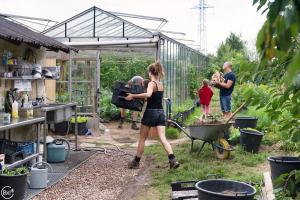 Description: Vert d'Iris International" is a young cooperative from Brussels, active in the field of urban agriculture and sustainable food, created 6 years ago. They manage two vegetable gardens in Neerpede (one of the last agricultural areas in Brussels). Many trainees are currently engaged in the organization, thanks to the program on social entrepreneurship in sustainable food field. The products of the gardens are also distributed to many restaurants and organic shops in Brussels or transformed into original recipes (dehydration, lacto-fermentation ...). The social purpose of Vert d'Iris involves the restoration of the nutritional vocation of Brussels city by creating jobs in the emerging trades of sustainable food.
Type of Work: The young and dynamic team of the cooperative invites you to participate in a vegetable garden project at its two production sites in Neerpede. Volunteers will participate in the regular activity of gardening, allowing them to familiarize themselves with the maintenance, cultivation and harvesting of fruits, edible flowers and seasonal vegetables.
Study Theme: Several learning goals will be included, such as gardening, urban agriculture, biodiversity and eco-building with recycled materials.
Accommodation: Volunteers will be accommodated in individual tents in the gardens (bring mattresses and sleeping bag), basic sanitary facilities (dry toilets & regular shower).
Language: English but knowledge of French is recommended to exchange with the local staff.
Requirements: The volunteers need to be ready for physical outside work and to have an interest for organic agriculture and sustainable development. Basic living conditions!
Approximate Location: In the district of Anderlecht, in the South of Brussels. In the middle of the nature but very close to the city center.
Notes: Volunteers will have access to a kitchen to cook for themselves with vegetables from the garden (vegetarian food). Usually for lunch, they will eat with the rest of the team (meal preparation in turn). Unfortunately, the garden is not accessible for people with reduced mobility.