Country:
Belgium - French speaking
Topic:
11: Climate and sustainable lifestyle
Work Types:
Agriculture / Manual / Restoration, renovation
Number of places still available:
8
Free places last update:
19 Feb 2020
International age:
18 - 99
Required Language:
English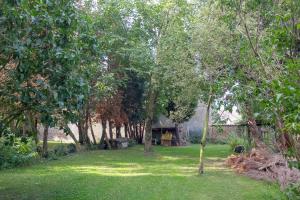 Description: "Oasis" is a young environmental association whose aim is to develop an eco-citizen educational center for trainings, learning and research in applied ecology. It aims to be a place of encounter, exchange, exhibitions and lectures. The purpose of the center is to show that ecological alternatives do exist in every area of our daily lives and to promote knowledge and skills to have a simple and healthy way of life, neither harmful for us nor for the environment. The main topics addressed are nutrition, permaculture, food, organic gardening, culture of organic local and old fruit-trees, urban agriculture, recycling, ecological renovation of the building, water management, energy, water management, participatory workshops and culture… To achieve this, they organize different workshops.
Type of Work: One of the themes will be eco-renovation. Participants will be involved in the ecological renovation of the building, focusing on recycling as much as possible, to show that renovating a building is possible without spending huge amounts of money in technology. The oasis has just moved to a new location, everything has to be done! Volunteers will mainly do landscaping, clearing, renovating and cleaning up the site. There will also be various tasks in permaculture in the garden, outdoor arrangements and arrangements of the room where the future bread oven will be located.
Study Theme: Environment, eco-renovation…. The philosophy of the Oasis is based on a global approach as a local perspective. It is noticeable in the slogan "think globally to act locally". It is not limited to the transmission of technique, but seeks to articulate coherently thought and action. Volunteers will receive information about the activities organized by the Center: biological gardening, confection of natural cleaning products and natural soap, production of bread in their handmade oven, manufacture of dry toilets, basket weaving, clay plaster...
Accommodation: Basic accommodation in tents in the garden of the center (take your own mattress, pillow and sleeping bag).
Language: English
Requirements: For volunteers who like manual work.
Approximate Location: Quaregnon is in the surroundings of Mons, that is a city 70 km away from Brussels, in the south of Belgium.
Notes: The food will be mainly vegetarian: local and seasonal food (veggies from the garden...), self-made bread... More info about Oasis Eco-Center: http://www.ecocentre-oasis.be/actualites/ Not accessible to wheelchairs.