Paraplegics & quadriplegics camp for international volunteers
Topic:
9: People with disabilities
Options:
Wheelchair Accessible
Work Types:
Work with people with disabilities
Number of places still available:
6
Free places last update:
11 Feb 2020
International age:
18 - 99
Required Language:
English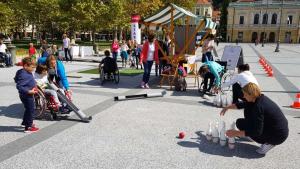 Description: The volunteers will help paraplegics and quadriplegics (the members of our association). The association prefers people of humanistic sciences, we would be glad to accept a paraplegic or any other handicapped person that is a wheelchair user.
Type of Work: Their main job will be preparing the meals and taking care of house cleanliness. Also they will talk with members and spend time together, play chess and cards. The volunteers will not need to help our members in a sense of personal hygiene or any other ''personal'' things. During the camp we will organize some tours around Bela Krajina and Dolenjska region. During weekend we will attend folk festival ''Semiska ohcet'', where we will have a stand in the center of town, where we'll present countries of volunteers, so bring material for presentation. Also, if you have any abilities (sing, play an instrument, what ever, please let us know, so we can put you in the program). Each volunteer will also make a presentation of his/her country on theme evenigs in the house.
Study Theme: The volunteers will learn about problems of day to day life of our members.
Accommodation: The volunteers will be accommodated in a house together with our members (women have separate room).
Requirements: IMPORTANT: Camp starts on 27.8. at 10 AM at meeting point and finishes on 3.9. at around 2 PM at meeting point, so please arrange your transport back home accordingly.
Notes: Our association gathers members which use wheelchairs, therefore we will arrange acceptable accommodation and transport, food (please report any preferences or allergies or diets before you arrive) and other things. Volunteers must be at least 18 years old, but we might make an exception once in a while. If you have any questions (anything at all), you can ask our camp leader Rok, he'll be more then glad to help you.