Discovering the women residential center of Caritas International
Country:
Belgium - French speaking
Topic:
2: Refugees, immigrants and ethnic minorities
Work Types:
Work with children / Social
Number of places still available:
5
Free places last update:
19 Feb 2020
International age:
20 - 99
Required Language:
French
Motivation letter:
This camp requires an additional motivation letter to explain in more detail why you would like to attend.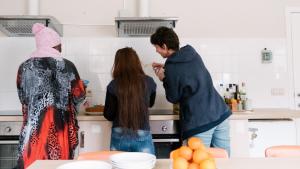 Description: The residential center of Caritas International in Louvranges welcomes women asylum seekers and their children as part of their asylum application in Belgium. Its accommodation capacity is 78 people. The peculiarity of this center is to welcome women in situation of vulnerability due to living conditions in their home country or following a very difficult course of exile. Currently, there are 25 women and 53 children but this number varies. Those women come from different social environments, different origins although many come from West Africa where French is spoken (e.g. Congo, Guinea, Burkina Faso..).The Logis de Louvranges provide women with private apartments in order to give them autonomy and empowerment. The residents manage their family, their budget themselves.
Type of Work: The team would like the project to be mixed: -entertainment activities specifically for women only, for the children as well as mother-child activities -A more manual aspect involving residents (to be determined): renovation work (of a playground), painting or creation of garden furniture in pallets.. -An artistic dimension: creating photo, murals or video supports (concerning women living conditions in their home country) The project will focus on activities in link with nature. The families live in a wooden area, surrounded by footpath but are not often used by them. The equip wants to give meaning to this project. It is not only about making activities for women where they can drop off their children.
Study Theme: Understanding how the asylum application works in Belgium. Meetings with the residents and the staff from Louvranges. A training about interculturalism, information about asylum application and all the ethics linked to the project will be provided the first day.
Accommodation: In a tent in the garden of the center. It is a rudimentary accommodation but a room of the center will be available in case of bad weather. Showers will be accessible in a sport center in Louvain-La Neuve (access by bicycle or by car).
Language: Knowledge of French is desired in order to communicate effectively with residents, children and the staff.
Requirements: Fill an extra motivation letter and a skype call will be organized with the partner before accepting candidates. Flexibility of volunteers. Respect of the vulnerability of the residents and of the confidentiality. To find the right emotional distance. There is a possibility to be confronted with women's or children's psychological sufferings and consequently with behaviors that result from it.
Approximate Location: Louvrange is near Wavre, in the Walloon Brabant, not far from Brussels. There are busses to Wavre and Louvain La Neuve and Brussels. Louvain La Neuve is also accessible by bike (it takes 20').
Notes: Possibility of having vans (B driving license) or travelling by bus (public transport) for the entertainment with families. Bring your driving license if you are authorized to drive in Europe. They are supervised by a multidisciplinary equip in order to receive personalized judicial and psychosocial follow-up, medical and paramedical care. There is also a nursery for toddlers. The apartments are placed within the same area and the activities are proposed in certain moments in order to create a group dynamic and make women meet each other.