Sun + Wind = Power I (Glücksburg near Flensburg)
Topic:
11: Climate and sustainable lifestyle
Special Topics:
Climate for Peace Programme:
Work Types:
Environment / Manual / Study, discussion, research
Number of places still available:
11
Free places last update:
25 Jun 2020
International age:
18 - 99
Required Language:
English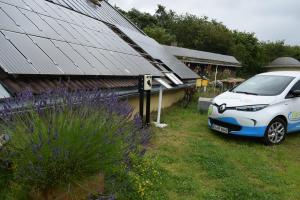 Description: The artefact centre which is located in Gluecksburg/Baltic Sea is a centre for sustainable development. This non-profit organisation runs a guesthouse built in an organic style of architecture with a renewable energy supply. The 'Powerpark', an energy infotainment site for tourists, conducts project activities for young people as well as specialist seminars for adults on renewable energy, building and water management. In order to keep up its attractiveness as a destination for training and tourism, installations on the site need to be improved. For further information please see: http://www.artefact.de/
Type of Work: Planting on a roof, maintenance work in the energy and climate infotainment "Powerpark", working at a water reservoir, weed the garden
Study Theme: Getting to know the causes and effects of climate change and the different options for renewable and peaceful energy sources for different climates
Accommodation: Simple in big tent (please bring along isolating mat and warm sleeping bag), toilet (compost toilets) and shower (solar shower) facilities nearby
Cooking together with the group in the kitchen inside or in the solarkitchen outside
Language: English
Requirements: Interest in the topic 'renewable energies' and basic living conditions will be expected, manual skills preferable
Approximate Location: Glücksburg is a small city northeast of Flensburg near the border to Denmark located near the Baltic Sea.
Notes: Please bring along a warm sleeping bag, a camping mat and waterproof working clothes. As Denmark is not far away and has its very own culture and traditions, a visit to Germanys neighbour country would be very interesting (inform yourself about the conditions of entry!). Trips to Glücksburg's famous castle, the city and port of Flensburg, Baltic and North Sea coast possible.
Organization Description: This workcamp is organized by the German branch of Service Civil International (SCI). SCI Germany was founded in 1946 and is approved as a non-profit organisation. We are one of the oldest peace and volunteer organisations. SCI Germany aims to promote peace, non-violence, international solidarity, social justice, sustainable development and cross-cultural exchange through international voluntary work. We cooperate with a network of branches and partners in more than 90 countries. Every year, SCI Germany organizes about 50 international workcamps in Germany.