Topic:
12: Art, culture and local history
Work Types:
Archaeology / Manual / Restoration, renovation
Free places for Females:
0
Free places last update:
23 Jul 2020
International age:
18 - 30
Required Language:
English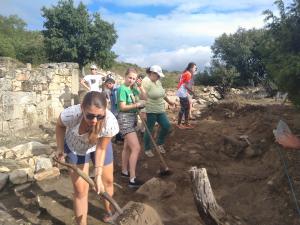 Description: This is na Archaeological Camp that we use to do for many years, so our aims is to continue the excavation work that has been going on for over twenty years with the aim of musealization the archaeological site with prehistoric, Roman and medieval remains
Type of Work: Tasks and activities (work) - archaeological excavations guided by an archaeologist collecting different elements (coals, seeds, bones …) for analysis; Materials washing and labeling. -During the camp volunteers will work no longer than 6h/day. Leisure and visits
Visit to the rock engravings of Vale do Côa (World Heritage) and the Côa Museum; - -Boat trip on the Douro River (World Heritage), visit to the historic village of Marialva, Numão Castle, archaeological sites, Casa Grande Museum. -Traditional games and parties and swimming pool.
Accommodation: Volunteers will be accommodated at ACDR Youth Centre, composed of 2 dormitories and 8 rooms. Meals will be served in the youth centre restaurant.
Requirements: - respect the regulations and norms of the work field.
respect the instructions of the monitors
participate in work activities and leisure
Approximate Location: Freixo de Numão in Guarda District