Sustainable Gardening and Community Life
Topic:
11: Climate and sustainable lifestyle
Work Types:
Agriculture / Environment / Manual
Number of places still available:
2
Free places last update:
08 Jul 2020
International age:
18 - 99
Required Language:
English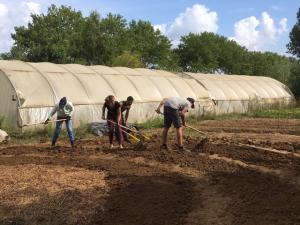 Description: Created in 2018, "Les Cultivateurs de Liens" is an association whose goals are :
Producing food that respects the environment by fulfilling the criteria of organic farming and more
Cultivating the social bond by opening the association to all in order to break the isolation, fight against the exclusion and the stigmatization of the precarious public
Create an horizontal governance structure in order to be dynamic, flexible and progressive
Spread the knowledge about organic culture to minimize the human impact on the environment
Type of Work: Volunteers will participate in eco-gardening of vegetables and fruits. The tasks will be : Harvesting, weeding, planting, watering, pruning, mulching. Realization of the beautification of the site: decoration, signage. Help with the realization of a wind turbine. Realization of a biological pond. Saturday meal preparation with the members of the association
Study Theme: The volunteer will learn how to grow an organic garden. This garden benefits the local members, the biodiversity and the environment. The main goal of the association is to teach some environmentally-friendly method about gardening to anyone. The association offers its members a workshop about that every Saturday.
Accommodation: The volunteers will be staying in the Emmaüs community. The building stands next to the garden. Emmaüs is a community that welcomes people with no home, no legal papers, migrants or refugees. The volunteers will join a multicultural community. They will stay in 2-3 people studios with a bathroom and toilets. The accommodation is simple.
Language: English will be the spoken language during the camp, some knowledge in French is welcome but not compulsory
Requirements: Bring clothes for cold, sunny/hot and rainy weather. Be prepared to work outside everyday and be aware that working in a garden during the whole day can get physical.
Approximate Location: In Wambrechies, Northern France, close to Lille
Organization Description: La branche française du mouvement, créée en 1936 et actuellement à Lille.