Artistic life of Brittany
Topic:
12: Art, culture and local history
Work Types:
Art / Festival / Restoration, renovation
Number of places still available:
5
Free places last update:
09 Jul 2020
International age:
18 - 99
Required Language:
English
Motivation letter:
This camp requires an additional motivation letter to explain in more detail why you would like to attend.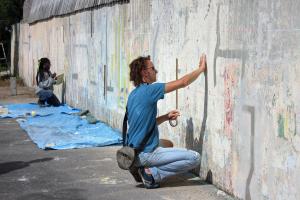 Description: The association Genou Vrillé took over the former San-Anton school of the Breton village of Pouldergat, and changed it into a shelter and creation place for artists. Serigraphy on pancakes, sculpture and painting are as much domain as one can find in this place full of creative energy.
Type of Work: The volunteer will accomplish many different manual works such as painting on different surface, renovating furniture, some carpentry work as well. The volunteers will create games for different events that will take place in the region. The camp will be taking place during the Douarnenez film festival but the volunteer will also be working on the organization of the local street party.
Study Theme: The life of artists in France and especially in Brittany
Accommodation: The volunteers will be sleeping in a tent in the garden! Therefore, they need to bring a tent, a mattress, a pillow a sleeping bag, a flashlight,etc. The volunteers will be doing camping, there is shower and toilets next to the camping area.
Language: English will be the spoken language. Little French knowledge is welcome but not mandatory!
Requirements: You need to be ready to work outside even if it is raining. Interest in art and films in general is recommended!
Approximate Location: Village of Pouldergat in Brittany, near Douarnenez.
Organization Description: La branche française du mouvement, créée en 1936 et actuellement à Lille.