Country:
Russian Federation
Topic:
7: Children and youth
Work Types:
Teaching / Work with children
Number of places still available:
4
Free places last update:
27 Mar 2020
International age:
18 - 99
Required Language:
English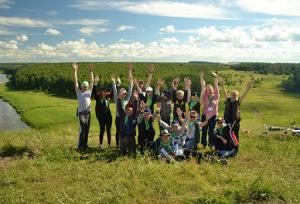 Description: The camp will be directed to work with children from the Kirov region and neighbouring regions aged 10-17 years. in the summer tent camp in Kirov region. The purpose of the camp is creation conditions for teenagers to enrich their experience of independent organization of their leisure and life, and to become involved in tourism. The shift lasts 12 days. Tourism classes are the basis of the program, they are held throughout the shift. The shift includes several master classes on tourism of different levels (rock climbing, water rafting, rope town, orienteering) and hiking.
Type of Work: The volunteers will:
• Help counsellors;
• Monitor and take care of children;
• Play games with children and immerse them in the language environment.
• Conduct master classes on the language and culture of their country every day.
Accommodation: The volunteers will be accommodated in tents in the camp (3 persons per tent). Bathrooms, athletic field are available. There are no settlements near 20 km. The presence of communication only when the mobile signal amplifier is working. For about 6 hours a day. Tents will be provided, but you need to take sleeping bags and tour mats with you. Food: food will be served 3 times a day by military field kitchen. In soups and main courses, stew is added everywhere. The participation of vegetarians is possible the cook can postpone food until adding stew.
Requirements: Tents will be provided, but you need to take sleeping bags and tour mats with you.
Approximate Location: Kirov region.
Notes: LEISURE TIME
Would be a good idea to take playing cards, board games, musical instruments. There is a possibility for playing active games outside and doing workout. Also, after or before the camp, volunteers can visit the capital - Moscow or Kazan cities, which are located near with Kirov visit a lot of historical or modern museums, summer festivals and architectural squares.