Siberian Botanical Garden
Country:
Russian Federation
Topic:
10: Environment protection
Work Types:
Environment / Study, discussion, research
Number of places still available:
9
Free places last update:
30 Mar 2020
International age:
18 - 99
Required Language:
English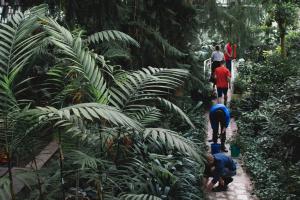 Description: During the workcamp volunteers will work at the Siberian Botanical Garden that situated at the territory of Tomsk State University, which is located in the city center. The territory of the Botanical Garden is a beautiful and magical place. Garden now is a huge botanical science center. It was founded in 1880 on an area of 1.2 hectares and it is the first botanical institution in the Asian part of Russia. Collection funds include over 6,000 species, forms and varieties of living plants. Tomsk is a pretty small and cozy city that is considered to be one of the most popular and oldest cities in Western Siberia. Now it is a popular educational, research and innovative center, which has a very rich and interesting history and many places to visit (museums, theatres, parks).
Type of Work: The volunteers will:
• take care of plants (plant transplantation, weeding, cutting of bushes)
• tidy the territory after cutting (grass and branches)
• assist with cultural and educational work: conducting excursions (as well as excursions in English), assistance in holding events
• help with the promotion of the events of the Botanical Garden on social media, preparation of photo and video materials, etc.;
The important part of the work camp will consist of filming video diaries and telling stories about volunteers' experience in the work camp. Volunteers also can prepare some educational activities about voluntary work for the volunteers of our Center "UNIVOL" (games, workshops, movie discussions, sharing your personal volunteering experience).
Accommodation: The volunteers will be accommodated it the student dormitory "Parus" (2-3 people per room). "Parus" is located on the territory of Tomsk State University campus near the lake, which in the winter is the largest ice rink in the city. The infrastructure at the dorm is good, warm showers are included. Food: food will be served 3 times a day in the cafeteria. It is also possible to cook at the dorm's kitchen. You will be provided with necessary kitchen equipment. You are welcome to bring traditional recipes and goodies from home country.
Approximate Location: Tomsk.
Notes: LEISURE TIME
There are a lot of opportunities for free time: museums, events, nightclubs, outdoor activities. Some guided museum visits will be provided. Tomsk is situated in a very heart of Siberia which also provides opportunities for traveling.