Gender-Camp in Kreafithaus (Berlin)
Topic:
6: Gender equality and sexuality
Work Types:
Construction / Restoration, renovation / Study, discussion, research
Number of places still available:
10
Free places last update:
16 Jun 2020
International age:
18 - 27
Required Language:
English
Spoken Language:
English, German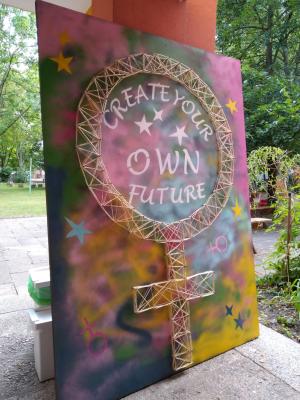 Description: The Girls Sport Center KREAFITHAUS is a project of the Gesellschaft für Sport und Jugendsozialarbeit gGmbH and is aimed to girls and young women. The GSJ takes care of children and adolescents in difficult life situations and is active in social hot spots. The KREAFITHAUS supports girls and young women in their personal development through active sports leisure activities in conjunction with socio-educational support. The target group are girls and young women of all ages, nationality, culture, religion, skin color, social background and population. The Kreafithaus works according to gender-specific methods, content and pedagogical concepts and helps to promote the further development of gender equality in sport, work, family and politics.
Type of Work: Renovation of one of the exercise rooms and of the sanitary facilities in the first floor. Smoothing and painting walls, designing the rooms with your creativity. Painting the fence in the garden, constructing new raised beds - all under the supervision of staff-members of the Kreafithaus. Possibly also constructing a terrace, cleaning up the windows bank and doing an Upcycling-Workshop. The group will discuss about stereotypes of "male" and "female" work and how it can be possible to create spaces, where all genders can learn all kind of different things they would like to do.
Study Theme: Documentation of the camp. Discussions on the topic of gender: how do people live and perform their gender in Berlin and are there differences to the home countries of the volunteers? Is there something like "female street-art"? And what might make it special? Getting to know the approach of the Kreafithaus to empower girls and young women. The Kreafithaus participates in the "One Billion Rising" Campaign for several years. You will learn the related dance "Break the Chain" and make a flashmob in Berlin.
Accommodation: Accomodation in the 2nd floor of Kreafithaus in two exercise rooms. Sleeping mats and sleeping bags are required. The two rooms are renovated and can also be closed during the day. There is a shower, toilet and washbasins available on the same floor, another shower is located on the ground floor. On the 2nd floor is also the well-equipped self-catering kitchen with dining area and terrace. Within walking distance there are shops, also cheap discounters. In Germany we have good drinking water quality, you can drink water from the tap.
Language: Camp-language will be English. Knowing some German is not required but could be helpful.
Requirements: Being interested in gender-topics and discussions! Being interested in manageable renovating and building projects.
Approximate Location: The Kreafithaus is located in Berlin-Lichtenberg, which is in the eastern part of Berlin. It is situated amongst panel flats of the former GDR, with schools, kindergardens and shops in between.
Notes: Please note that this camp is open only for the female volunteers.
Organization Description: This workcamp is organized by the German branch of Service Civil International (SCI). SCI Germany was founded in 1946 and is approved as a non-profit organisation. We are one of the oldest peace and volunteer organisations. SCI Germany aims to promote peace, non-violence, international solidarity, social justice, sustainable development and cross-cultural exchange through international voluntary work. We cooperate with a network of branches and partners in more than 90 countries. Every year, SCI Germany organizes about 50 international workcamps in Germany.