Wachau Volunteer meets Thayatal National Park
Topic:
10: Environment protection
Free places for Females:
4
Free places last update:
25 Feb 2020
International age:
18 - 99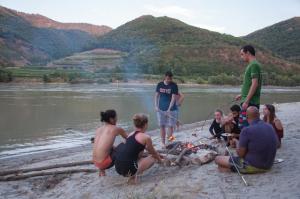 Description: This outstanding Workcamp takes place in two unique Landscapes: One of the oldest cultural landscapes in Austria, the Wachau and the conservation area of Thayatal National Park. Participants will take part in nature conservation activities to help protect and restore the very diverse habitats in both regions. They also will get insights in the organization of the two protected areas, while having the chance to thier interests with like-minded persons from all over the world. Additionally there will be a lot of time to explore both the culturally rich regions and enjoy leisure time.
Type of Work: Many old meadows and abandoned stone terraces rich in biodiversity are in danger. The numbers of livestock sent out by farmers has declined and so have the mowing activities. As a result, bushes, scrubs and trees are claiming back the grasslands and are overgrowing the stone terraces. Without action, a valuable biodiversity hot spot with hundreds of different species will become forest. Moreover, invasive species are spreading progressively, pushing back native plants and endangering the floodplains and their typical structure along the Danube. There are not many dry grassland areas left, and we are here to preserve the last ones. We will cut the grass, the bushes and trees and remove the biomass from the areas.
Study Theme: The participants will get to know the two protected areas, what their tasks and goals are and what kind of work is needed to achieve those. They will also learn relationships and interdependences in natural and anthropogenically influenced habitats, the needs of nature protection and what it means to conserve rare habitats and species.
Accommodation: At Thayatal National Park we will be staying in the recently built Wildcat Camp. The facility is equipped with bedrooms for up to 6 persons with bathrooms, a common room and kitchen. Breakfast, packed lunch and dinner will be provided either in the camp, at the work site or in nearby restaurants. Wireless LAN will be available in the Camp.
During our time in Spitz, we will be staying at the local secondary school – the Neue Mittelschule Spitz, located in the heart of Wachau. You will need a sleeping bag.
During the camp we will also cook together.
Requirements: We will be working about 6 hours – sometimes in steep terrain, on hot days, but also very cold or rainy days etc. Therefore, some basic fitness is required.
Approximate Location: The conservation area of Thayatal National Park – the smallest of Austria's national parks – covers part of the Thaya Valley river landscape. While cutting through the Bohemian Massif the river Thaya created an enormously diverse landscape with protruding meanders, steep wet slopes of forest, dry grassland upon outstanding rock formations and beautiful meadows along the river. Together with the adjacent Podyjí National Park in the Czech Republic, it is one of the most interesting and diverse river valleys in Central Europe.
Notes: If you have any underlying conditions such as allergies (to food, bees, pollen, penicillin etc.), heart conditions, epilepsy, troubles with your circulation or blood pressure, troubles with your joints or eyes or if you are required to take any medication on a regular basis, PLEASE INFORM THE CAMP LEADER AHEAD OF TIME so that appropriate measures can be taken in the case of an emergency.
Organization Description: SCI Austria is the Austrian branch of Service Civil International, founded in 1947 and based in Vienna. We are mainly volunteers who have been on international workcamps ourselves and who want to organize meaningful and critical projects in our country as well.