Topic:
12: Art, culture and local history
Work Types:
Environment / Restoration, renovation
Free places for Females:
4
Free places last update:
13 Mar 2020
International age:
18 - 99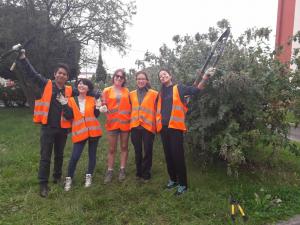 Description: The workcamp is organized in a small village of Dysina, Western Bohemia, in cooperation with the local municipality. The village has an industrial history and nowadays, there is a strong connection to the personality of the U.S. General Patton who freed Western part of Czechoslovakia at the end of WWII with the troops (there is even a statue of the general in the village). There are several active associations in the village. The aim of this workcamp is to help to maintain green areas and other public places in the village, to organize a traditional beer festival and to prepare local primary school and kindergarten for the beginning of new school year. Volunteers are invited to Dysina for 15th time this year.In this workcamp, you are actively working for the United Nations Sustainable Development Goal of Sustainable Cities and Communities (UN SDG11) and Life on Land (UN SDG15).
Type of Work: Work: The work will be mainly manual and outdoors. You will do different gardening works (cutting bushes and grass, raking etc.) and some other renovation and maintenance tasks (around the local kindergarten and primary school). You will also help to prepare a beer festival. Bring solid shs and working clothes for different kinds of weather. The new school year will start at the beginning of September, so you will have a chance to meet local school children and prepare some presentations and activities about your country and culture. Bring something special from home which could be suitable for such an activity (games, music, pictures, etc.).Study part: You can get familiar with the local history and culture by meeting local community. During the beer festival, you will get the opportunity to present your town or country to locals. You will have a chance to learn some basics of golf, there will be a two-hour lesson of golf provided for the volunteers in the golf terrain nearby. You will also visit the local horse stables.
Accommodation: In a local community centre on (gym) mattresses. There is 1 room for sleeping (women and men share the same room) and 1 common room with a kitchen corner. Please bring a sleeping bag and be ready for basic conditions ( the showers are in cabins of the football pitch about 10 mins walk from the accommodation. There is a possibility to have your clothes washed. Most meals will be served in the local school canteen and some will be prepared by the group. Vegetarian diet is possible.
Language: eng,
Requirements: Project is suitable for volunteers, who like gardening, are interested in getting to know the life of a small Czech village and who are ready to be in tight contact with the local community, especially children and youth.
Approximate Location: GPS coordinates: 49.7775617 - 13.4935039. Address: PEUtelstvE 281, 330 02 DE 1/2Uina, Czech Republic. Dysina (about 1500 inhabitants) is located at about 10 km from Pilsen in the western part of Czech Republic.Meeting point: Dysina. The meeting time is usually in the afternoon. Please note that it takes almost 2 hours to get there from Prague. The exact information will be provided in the infosheet.Leisure time: Excursion to Pilsen (European Cultural Capital 2015), trips to the surrounding countryside, visit of cultural and historical sights, campfire, going swimming, doing sports in the sports ground near the accommodation, playing board games, etc.
Organization Description: INEX – Association for Voluntary Activities is a non-governmental not-for-profit organisation founded in 1991 to carry out and support international voluntary work and intercultural education. The mission of INEX-SDA is by organising international voluntary projects, educational programs and campaigns to: 1. assist the development of a tolerant and open society and 2. encourage an active and responsible approach to the world around us both locally and globally We create space in which especially (but not only) young people can gain new experience, expand their skills and and develop their own views of the complexity of the world around them.