Restore a Historical Cultural Centre
Topic:
12: Art, culture and local history
Work Types:
Restoration, renovation
Free places for Females:
4
Free places last update:
19 Mar 2020
International age:
17 - 99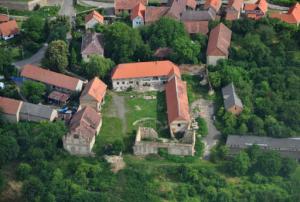 Description: The workcamp is organized in cooperation with a NGO Farmstudio, which is an association that creates space for contemporary art and participates in saving and restoring cultural heritage. Farmstudio is located in a protected ladnscape area Kokorinsko, in a village Vysoka, and it resides in unique premises of a former farmhouse from the beginning of the 19th century. It provides facilities In addition to organizing its own exhibition program and events, it offers its premises to other cultural entities for creative residencies, workshops, festivals, concerts, theatre and other activities (photography, painting, spatial creation, performance, site-specific, occupational therapy, alternative lifestyle, etc.). The complex is undergoing a gradual reconstruction of the building of cultural and historical significance without subsidies or other support from public sources, which is why there is always needed volunteer work and the aim of this workcamp. In this workcamp, you are actively working for the United Nations Sustainable Development Goal of Sustainable Cities and Communities (UN SDG11).
Type of Work: Work: Work will be diverse and manual, you will be able to choose according to your interest and physical abilities. The tasks include preservation and preservation of historically valuable wooden beams, landscaping (digging, soil distribution) for outdoor art installations, restoration of windows and doors, demolishing walls and moving material, construction of stone beds, grinding, painting, cleaning of attic space etc. For those interested, there is a possibility of more professional classical construction work (masonry, plastering). Please bring clothes that can get dirty and/or damaged, a cap and sturdy shs.Study part: Farmstudio presentation, its history, development, vision; a photography workshop basics of photography - composition and light; a photography workshop dark room (classic black and white photography); a guided tour of site-specific art exhibitions; a lecture protection of listed buildings; possibility of a lecture sustainable agriculture and a guided walk in protected landscape area Kokorinsko.
Accommodation: In Farmstudio- sleeping in 2 bedrooms with beds and sheets. There is a common room, three toilets, a shower and a kitchen. You will cook all your meals together as a group.
Language: eng,
Requirements: Workcamp is for those who are interested in cultural heritage, nature and manual work. The workcamp is not suitable for people with allergies to dust or cats (they are present on the property). 17 years old volunteers need parental authorisation.
Approximate Location: Vysoka is located 8 km from Melnik, on the edge of the protected landscape area Kokorinsko. The village has a shop, two churches and a pastry shop with a gallery. Leisure time: Swimming in a nearby natural lake, having a campfire. If interested trips to the protected landscape area Kokorinsko; a tour of the historic center of Melnik, including an underground tour; a guided tour of the chateau and historical mill in Libechov; a visit to the First Republic swimming pool in Mseno combined with a tourist trip; overnight stay in the wild (own sleeping bag required).
Organization Description: INEX – Association for Voluntary Activities is a non-governmental not-for-profit organisation founded in 1991 to carry out and support international voluntary work and intercultural education. The mission of INEX-SDA is by organising international voluntary projects, educational programs and campaigns to: 1. assist the development of a tolerant and open society and 2. encourage an active and responsible approach to the world around us both locally and globally We create space in which especially (but not only) young people can gain new experience, expand their skills and and develop their own views of the complexity of the world around them.