Help the Elderly in Prague 15
Topic:
5: Poverty and social injustice
Options:
Wheelchair Accessible
Free places for Females:
3
Free places last update:
19 Mar 2020
International age:
18 - 99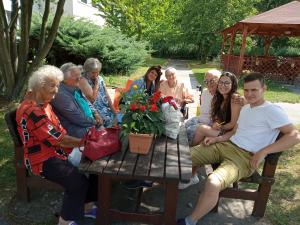 Description: This workcamp takes place in Prague 15 (at the outskirts of the city) in cooperation with the Centre for Social Care and Nursing which offers social services to the people who need care and help of the others due to their age or illness. The aim of this workcamp is to support intercultural and intergenerational exchange of experience, to get to know each other, discover something new and foster mutual understanding and respect. This year the workcamp will be organized for the 11th time.In this workcamp, you are actively working for the United Nations Sustainable Development Goal of Good Health and Wellbeing (UN SDG3).
Type of Work: Work: You will work with the elderly and get a fixed part in their daily program. You will organize art workshops, leisure time activities (board games) and a garden party for them and assist with occupational therapy and outdoor-activities (going for walks, etc.). You will also assist the nurses in taking care of the clients and potentially do some manual work (e.g. gardening, cleaning, helping in the kitchen etc.). It is very much welcome if you come with your own ideas and initiative on what can be done. Please bring your favourite music, pictures or simple games with you to share with the elderly.Study part: Learn more about social care in the Czech Republic and meet with seniors. You can practise Czech if you speak some. There will be workshops on ethical approach to social services and on communication in the environment with language barriers.
Accommodation: In a nearby hotel, in rooms with beds and linen. Each room also has its own bathroom. You can see the photos of the accommodation here: https://www.nasancich.cz/ubytovani/hotel. Lunch will be provided at the canteen of the social centre and will not be always suitable for vegetarians. Breakfast will be provided at the accommodation; dinner will be given to you in a package by the social centre and will usually be cold.
Language: eng,
Requirements: We prefer highly motivated, outgoing and creative volunteers. A relevant motivation letter needs to be sent with the application form. Before arriving at the project, you will be required to submit a Certificate of Good Conduct and a medical note stating you have no infectious diseases. If you speak some Czech, it will be very helpful in communication with the elderly.
Approximate Location: Prague 15, a residential quarter at the outskirts of Prague. Leisure time: Prague 15 has a lot of green areas and good facilities for sport. There is a swimming pool in the neighbourhood. Besides you can visit Prague city centre, see exhibitions, visit nearby castles or go hiking in the countryside.
Organization Description: INEX – Association for Voluntary Activities is a non-governmental not-for-profit organisation founded in 1991 to carry out and support international voluntary work and intercultural education. The mission of INEX-SDA is by organising international voluntary projects, educational programs and campaigns to: 1. assist the development of a tolerant and open society and 2. encourage an active and responsible approach to the world around us both locally and globally We create space in which especially (but not only) young people can gain new experience, expand their skills and and develop their own views of the complexity of the world around them.