Topic:
7: Children and youth
Work Types:
Work with children
Free places for Females:
4
Free places last update:
04 Apr 2020
International age:
18 - 99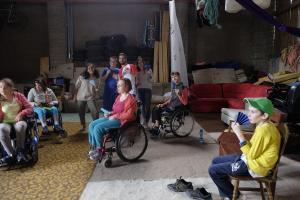 Description: This workcamp takes place in the town of Nymburk and in a small village of Jizbice (Central Bohemia region) in cooperation with the local NGO Centre for All. Centre for All celebrates this year 15 years of organizing free time activities and summer camps for children and youth with and without disabilities. The activities take place in a reconstructed barn with a pretty garden in Jizbice and in the centre of the organization in Nymburk. The aim of the workcamp is to help Centre for All to prepare and run a summer camp for youth and adults (15-28y/o) with disabilities. In this workcamp, you are actively working for the United Nations Sustainable Development Goal of Reduced Inequalities (UN SDG10).
Type of Work: Work: You will do both manual tasks and work with youth and adults with disabilities. 1st week: getting the campsite and the barn ready for the arrival of the campers (moving furniture, cleaning, decorating and preparing material, games and activities). 2nd week: you will work with youth and adults (15-28y/o) with mental and/or physical disabilities who spend their vacation at the camp in Jizbice (personal assistance to campers, organization of activities, going on walks, helping in the kitchen, washing dishes cleaning etc.). The campers have been attending the camps with Centre for All for 10-15 years. During the camp, you will work longer hours but you can enjoy more free time before or after the camp. Throughout the workcamp, you will cooperate with Czech assistants ( every camper will be taken care of by 1 Czech and 1 international volunteer. Bring games and ideas for activities as well as some musical instruments, as there will be a concert organized during the camp.Study part: During the first week, you will get a lecture on autism and a workshop on methods how to work with disabled youth. Some materials will be already provided to all participants before the workcamp. Please be ready to read them in advance There will be some teambuilding activities together with the Czech assistants. You will have the chance to learn some basic Czech phrases ( it will be helpful during the camp. You will also learn about the famous Czech author Bohumil Hrabal who was born in Nymburk ( you can visit his birth house or see films based on his novels.
Accommodation: In Jizbice: in big tents in the garden. Please bring a sleeping bag and a torch. There is a bathroom with toilets and showers at the campsite. You will have meals together with the children and organizers. In Nymburk: in an international scouts centre ( in rooms on mattresses in own sleeping bags. There are 2 bathrooms, a kitchen, a dining room and a big garden. During the 1st week you will prepare your own meals as a group, during the 2nd week all meals will be provided by the local partner.
Language: eng,
Requirements: A short motivation letter sent with the application form is strictly required. We are especially looking for outgoing and creative volunteers with good communication skills who enjoy working with youth and adults with disabilities. Please bear in mind that there will be 8 wheelchairs users at the camp, so strong hands are needed We will also ask you to cooperate before the workcamp and read the materials that will be sent to you. All the volunteers have to bring a doctor-approved certificate stating that they are fit to work with youth. The form will be sent to you after acceptation. Smoking and drinking alcohol is forbidden while working with youth and adults with disabilities.
Approximate Location: Nymburk and the village of Jizbice (8 kilometres from the town of Nymburk). The campsite in Jizbice is located in a garden with a big barn. There is a playground, forests and an outdoor swimming pool. Leisure time: Tour around the spa town of Podebrady, trip to Prague, excursion to a local brewery and to the surrounding countryside can be planned. We will also organize an intercultural day/evening in Nymburk together with Czech volunteers.
Organization Description: INEX – Association for Voluntary Activities is a non-governmental not-for-profit organisation founded in 1991 to carry out and support international voluntary work and intercultural education. The mission of INEX-SDA is by organising international voluntary projects, educational programs and campaigns to: 1. assist the development of a tolerant and open society and 2. encourage an active and responsible approach to the world around us both locally and globally We create space in which especially (but not only) young people can gain new experience, expand their skills and and develop their own views of the complexity of the world around them.