Topic:
10: Environment protection
Free places for Females:
5
Free places last update:
04 Apr 2020
International age:
18 - 99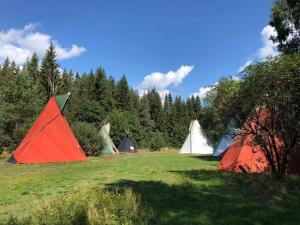 Description: The workcamp is organized in co-operation with the Czech national section of EUROSOLAR and Nature Conservation Agency. EUROSOLAR promotes renewable energies, sustainable lifestyle; it engages in youth environmental education and organizes environmental summer camps for children and families. The workcamp takes place in an abandoned but exceptionally beautiful, hilly area of Bohemian Forest, near the western border of the Czech Republic. The campsite is totally isolated from civilization (the nearest Czech village is 11 km away) and we welcome volunteers that are fond of trying out a basic lifestyle in the forest and do not mind longer walks. This year the workcamp will be organised for 21st time. The goal is to help maintain meadows in a nature protected area and maintain the campsite.In this workcamp, you are actively working for the United Nations Sustainable Development Goal of Life on Land (UN SDG15).
Type of Work: Work: You will work in a nature reserve about 3 km from the campsite (you will walk there on foot). The main work will consist of cutting grass on protected meadows and the campsite, raking and collecting grass. This work is physically demanding but on fresh air. As the meadows can be very wet, bring waterproof working shs (or rubber boots), rain-gear and gloves. You will also work directly in the campsite on maintenance tasks which can include repairing fences, preparing garden beds for winter, working in the nearby forest and other manual work. Please note that last three days will be dedicated to dismantling the campsite and transporting all the material to Prague where it will be stored during winter. Volunteers will be divided in groups helping with different stages of moving (loading the camp and unloading it in Prague) i some will travel to Prague by bus and train on Thursday Sept. 10th, some by bus and train one day later. All the volunteers will meet again in Prague on Sept. 11th in the evening. Accommodation in Prague will be provided. The volunteers can stay in Prague until Sunday Sept. 13th if they want, please arrange your travel plans according to your preference. Study part: Evening discussions about climate, environmental and intercultural topics, learning to recognize stars, watching wild animals. A visit to nature reservations in the neighbourhood can be planned. As you will be living in close contact with the nature you will improve your camping skills as well. Every evening, there is going to be a group meditation and sticktalking in a teepee.
Accommodation: In tee-pees (Indian tents with a fireplace in the centre) on wooden pads. You will cook together as a group on a fireplace. The food is only vegetarian. Nights in the forest are very cold, even frosty, so bring aI very warm sleeping bag, a camping mat, an extra blanket and/or sheet to cover a hay mattress. You will wash yourself in a small river with cold water next to the campsite, toilets are dry and outdoor. Please see photos of the place here: goo.gl/UDGSqc
Language: eng,
Requirements: This camp is perfect for volunteers who want to enjoy living and working in basic conditions in close touch with nature. If you are ready for this, an amazing experience is waiting for you This project is not suitable for people with hay allergies. There is a strict no alcohol and drugs policy in the campsite.
Approximate Location: The campsite in the valley of the Celni stream, an isolated part of the village of Lesna in the Bohemian Forest near the German border. The nearest bus stop is Stara Knizeci Hut and the nearest bigger town is Tachov. Leisure time: Hiking in the surrounding countryside. Trips to Czech towns in the neighbourhood (e.g. Marianske Lazne) and as the project is situated directly at the border on Germany, a trip to Germany can be organized as well. In your free time, you can play games, experience Indian sauna and try out archery.
Organization Description: INEX – Association for Voluntary Activities is a non-governmental not-for-profit organisation founded in 1991 to carry out and support international voluntary work and intercultural education. The mission of INEX-SDA is by organising international voluntary projects, educational programs and campaigns to: 1. assist the development of a tolerant and open society and 2. encourage an active and responsible approach to the world around us both locally and globally We create space in which especially (but not only) young people can gain new experience, expand their skills and and develop their own views of the complexity of the world around them.