Preserve and Revitalize the Old Houses in Wuqi
This project is part of the SCI North South Programmes. Volunteers should be 20 years old, have previous volunteering experience and take part in the Preparation Workshops organised by their sending branch. More details from your sending branch.

Camp code:
TW-VYA 12.2007
Country:
Taiwan, Republic of China
Topic:
12: Art, culture and local history
Work Types:
Construction / Cultural heritage
Free places for Females:
7
Free places last update:
28 Feb 2020
International age:
18 - 99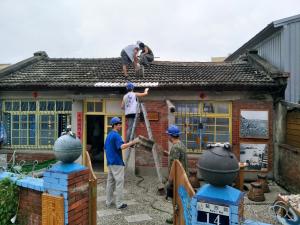 Description: On December 25, 2010, Taichung County and City are merged into the municipality, then Wuchi Town is reorganized into Wuchi District. Although the administrative area is not vast, it still has own deep cultural tourism potential. Especially the abundant cultural properties, there are some municipal historic sites, historic buildings and municipal folk culture, must be worth checking out. With several prosperous years and numerous temples everywhere, reflecting Wuchi ancestors' piety and expectation. When northeast monsoon blows, waiting for the mullet migration. There are various seafood restaurants, not only to satisfy with people's need but also to taste living experience in this land.
Type of Work: *Help the community to create2 place, preserve and revitalize an old house.
Organize concerts and market events for the topic.
Participate in local travel and ghost festivals.
Accommodation: Accommodations: We will stay in an accommodation owned by the The Presbyterian Church In Port of Taichung. Sleep in shared room with woody bed. Sleeping bags are compulsory (volunteers need to bring your own, please). Meals will be served by the community except one dinner have to be cooked by volunteers. Need to bring mosquito repellent.
Food: It will provide by community except one meal need to cook by yourselves. There is a kitchen at Nan-Chien community kitchen. You can try delicious food in Wuqi, especially sea food in your free time!
Approximate Location: NO.302, Jhonghe St., Dirt. Wu-Qi, Taichung City, Taiwan
GOOGLE MAP:臺中市梧棲區下寮里中和街302號 https://goo.gl/JmxKmm