Make it colorful and beautification for Sanjiao Village
This project is part of the SCI North South Programmes. Volunteers should be 20 years old, have previous volunteering experience and take part in the Preparation Workshops organised by their sending branch. More details from your sending branch.

Camp code:
TW-VYA 12.2009
Country:
Taiwan, Republic of China
Topic:
12: Art, culture and local history
Work Types:
Art / Cultural heritage
Free places for Females:
3
Free places last update:
01 Mar 2020
International age:
18 - 99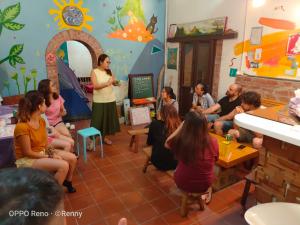 Description: Through the power of international volunteers, it not only develops the community's international perspective, but also allows volunteers to integrate into the community. We invite our volunteers to dine with the local family and we recommend families to take a walk together. Small communities can be injected with new energy. Most importantly, we hope to attract more local young people returning to their hometowns make tourists better understanding the community, develop a community tourism image, expand new horizons, and regenerate capabilities for residents. There is a bundle of new possibilities in this old-fashioned community.
Type of Work: 1- We will enter the community together, and under the leadership of a professional teacher, we will complete the construction of the community farm. 2- How to use traditional bamboo to create a community-friendly, full-featured and friendly space for crop promotion
Accommodation: The accommodation is currently located in the pigpen space of the community. Camping mainly on grass. You must bring your own sleeping bag. The food mainly consists of volunteers taking turns and sharing dinners with community families.
Approximate Location: This place is located in Taichung City, Taiwan, and the triangular community of Shengang District, adjacent to Taichung City.